Summer Flatbreads from the Garden Cafe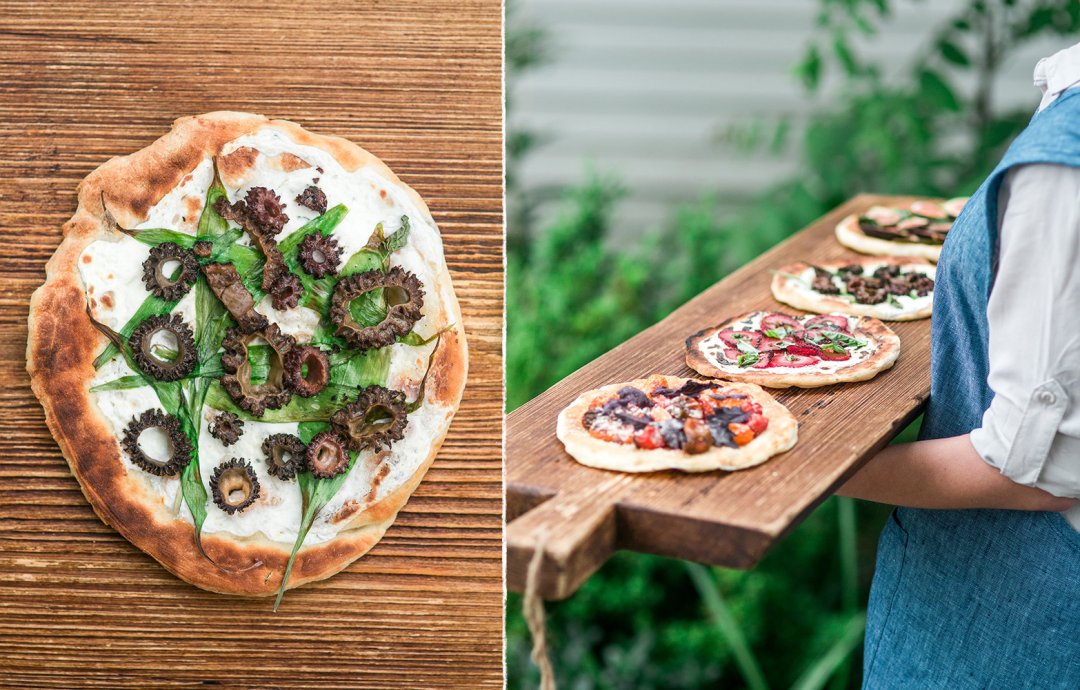 With snacking space for even the largest crowd, our new reclaimed wood serving plank is sure to be the life of summer parties. Each plank is hand-crafted in Hungary, made with salvaged pine from nineteenth century buildings and measuring over three feet long. To fill our brand-new board, we asked Styer's Garden Cafe Chef Ryan Bloome to make a batch of seasonal flatbreads. Inspired by the flavors of early summer, Ryan created five colorful topping combinations that would be perfect to serve and share at a party. Choose your favorites -- or get creative with toppings of your own -- and find his classic crust recipe below.
Morels, Ramps & Cream
Asparagus, Arugula & Garlicky Olive Oil
Strawberries, Basil & Ricotta
Figs, Dandelion Greens & Honey
Charred Cherry Tomatoes, Purple Basil & Parmesan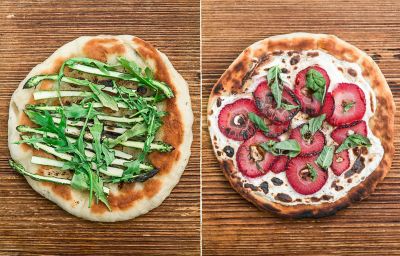 Flatbread Crust
(Makes 6 large or 12 small crusts)
11 grams yeast
5 grams salt
5 grams sugar
390 grams all-purpose flour (we used King Arthur Galahad flour)
41 grams extra virgin olive oil
270 grams 80° water
5 grams freshly chopped rosemary (optional)
Combine all dry ingredients in the bowl of a stand mixer. Add wet ingredients and mix for 7 minutes on low speed, using a dough hook. Mix for an additional 3 minutes at medium speed, until dough is smooth and relatively firm. Place dough in a greased bowl and cover with plastic wrap. Leave at room temperature until dough has doubled in size.
Portion dough into approximately 6 large balls or 12 small balls, folding the sides under until smooth. Allow the dough to rest on a floured surface, covered lightly with plastic wrap or a dry towel, until doubled in size again. Stretch crusts with your hands or a rolling pin until 1/2" thick.
The crusts can be cooked on each side using a griddle before toppings are added. Alternately, they can be cooked like pizzas, with toppings added before baking. In this case, place the assembled flatbread on a hot pizza stone and bake at 400°F.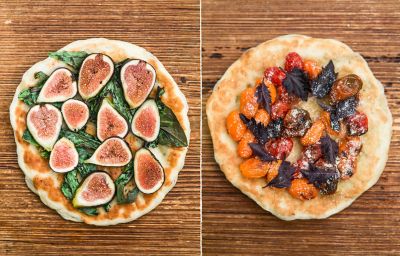 You May Also Like: