Maple Sugar Season with Finding Home Farms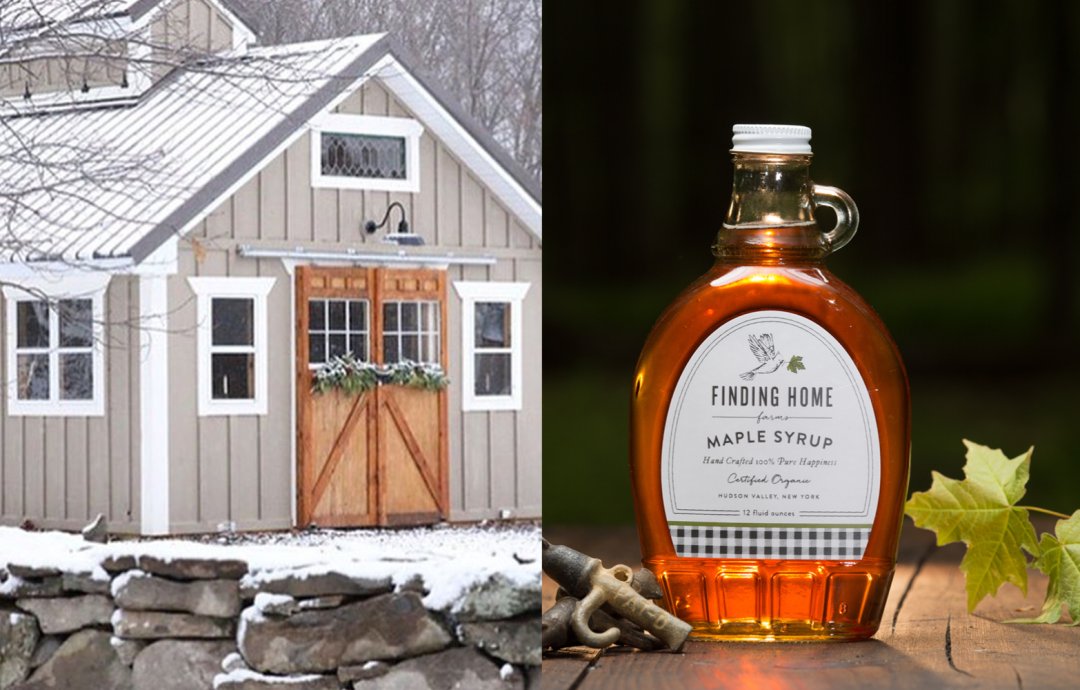 The sweetest finishing touch for a pancake breakfast on Christmas morning, pure maple syrup from Finding Home Farms is the newest addition to our pantry. Located in the Hudson Valley, Finding Home was founded by husband and wife team Dana and Laura Putnam; Dana's family tradition of maple syrup making transformed into their full-time business in 2014. The folks from Finding Home joined us for the Westport Holiday Open House in November, where their maple cotton candy was a huge hit. We recently caught up with Laura to talk about sugaring season at the farm, and some unexpected pairings for maple syrup beyond the breakfast table.
terrain: Can you tell us about the origins of Finding Home Farms? How did you start making maple syrup?

Laura: Finding Home Farms actually began as an interior decorating business in 2004, then evolved into a blog around 2010. In 2014, Dana decided to leave his corporate job and spend less time traveling away from his family. That year, we made our first batch of syrup as Finding Home Farms. Dana is a fourth-generation sugar maker and now our daughters are the fifth generation! When Dana was working in the corporate world, we spent each winter being "backyard sugar makers," tapping trees in our neighborhood and gathering sap on the weekends. Most of those Saturday nights ended with several neighborhood families sharing a potluck dinner at our house and taking turns checking the fire. After realizing that six weeks of sugaring were some of our happiest times of the year, it just made sense to make it our family business.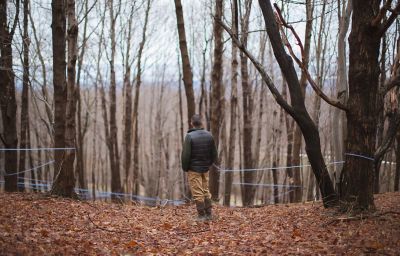 terrain: What are you looking forward to during the winter months?

Laura: Just like the name says, we are all about home. The best part of the holiday season is stepping away from our work schedules and waking up every day in our home, with our family and our community. We love fires in the family room, Hallmark Christmas movies (we are a bit addicted!), and enjoying Christmas as winter begins. Of course, winter brings the sugaring season, and we're always excited for that! This year, we're building a new farm and sugar house; we can't wait to see it up and running for the 2017 maple season.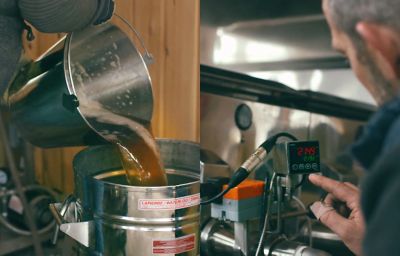 terrain: What are some of your favorite things to pair with syrup aside from traditional breakfast items?

Laura: We love the idea of taking maple syrup beyond the breakfast table. We started pairing maple syrup with cheese after our very first tasting in a beautiful grocery store, when a mini-disaster almost caused the sprinkler system to go off. Without our original plan in place, we spotted the nearby cheese counter and decided to try pairing syrup with a mild cheddar cheese. It was a hit! Now we always sample syrup paired with cheese. We've also built on that idea and love using maple syrup in a fondue pot with an appetizer platter that includes roasted vegetables and meat, fruit, bread, and of course, cheese. Design*Sponge shared our favorite recipe for the platter last winter -- you can find it here. We also use syrup for roasting or grilling meats and vegetables. It works perfectly to bring out additional flavor, caramelizes when roasted, and pairs beautifully with savory ingredients.
terrain: We heard rave reviews of the maple cotton candy at the Holiday Open House! How is it made?

Laura: We start with a blend of pure maple sugar and cane sugar, then use a modified cotton candy machine to spin it into maple cotton candy. Pure maple sugar is made by heating maple syrup to a higher temperature than you do when making syrup. As it cools, you mix it steadily and it crystallizes. It is really cool to watch!
Photo credits: 1l: Laura Putnam; 1r: Michael Bloom; 2: Erin Witkowski; 3: Mozell Films