Faux Real: A Staghorn Fern Mount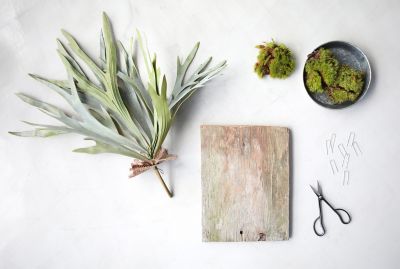 Staghorn ferns, the gorgeous and other-worldly botanical muse of plant enthusiasts and home designers everywhere, have long been a favorite in our houseplant repertoire. But for all the visual impact these epiphytes offer, keeping a healthy specimen requires just the right light, along with careful attention to temperature and moisture that can be difficult to achieve at home.

Enter the faux staghorn fern mount. Admittedly this option lacks the gardener's sense of pride in her thriving plant – but every home has at least one corner where lack of light, a zealous heating vent, or an enthusiastic pup ensures that no living plant will survive for long. It's in these places that we love the addition of a well-appointed faux specimen to round out an indoor garden.

Here, our stylists took the traditional (and easy!) method for mounting staghorn ferns and applied it to our faux option. The resulting wall art makes the perfect finishing detail for a gallery wall or the like.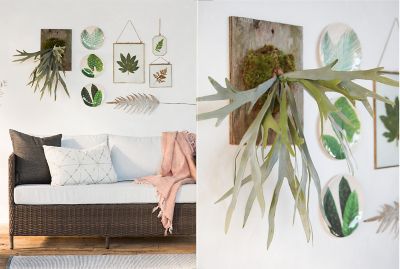 What You'll Need:
Faux staghorn fern
Weathered wood board (we recommend at least 12"W, 15"H)
Sheet moss
8 galvanized steel staples (found at your local hardware store)
Hot glue gun + glue sticks
Clear fishing line
2 screw eyes + steel picture hanging wire

Lay your board on a flat work surface and center your fern onto the board. The fern's fabric plaque should lay relatively flat on the board, the pick underneath it oriented vertically upwards. Use your hot glue gun to secure the plaque to the board. Once this is dry, hammer your staples in a circle surrounding the plaque, leaving just enough space between the staple and the board to thread your fishing line through. Now, place your sheet moss in mounds covering the fabric plaque taking care to stay inside the circle of staples. Tie a length of fishing line to one of your staples and, working from top to bottom and then side to side, begin securing the moss down to the board. Once your moss is in place, connect the screw eyes and picture hanging wire to the back of the wooden board, hang, and enjoy!