3 Summer Plantings For Father's Day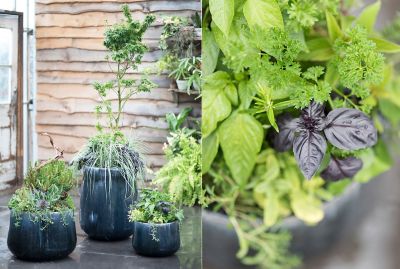 While we're pros at sending flowers on Mother's Day, we're more likely to give garden tools or whiskey stones on Father's Day, even though everyone appreciates a living gift! Thankfully, our Design by Terrain team knows just how to create lush, unique plantings that make the most thoughtful (and lasting!) gifts. We caught up with DBT team member Kaitlin Dodds so she could fill us in on this year's plantings featuring our stoneware drop pot collection.

terrain: Hi Kaitlin, the varying textures and heights in these plantings is so gorgeous. Can you talk to us about your design process here?

Kaitlin: For Father's Day every year, we try to showcase trees, such as Japanese maples and conifers. For the tall planter, we utilized a Hupp's Dwarf Acer (maple) and underplanted the container with a variety of carex grasses and burgundy sweet potato vines. In the mid-sized planter, we combined a low conifer as the statement plant with a variety of succulents, aloe, and sedum; we enjoyed playing with the variety of textures, colors, and levels of plants within the same container. For the smallest pot, we focused on creating an "on the grill" container with herbs that can be used for dad's weekend cookouts: purple sage, purple basil, barbecue rosemary, and pineapple sage.

terrain: Why are these drop pots particularly fun to work with?

Kaitlin: We chose the stoneware drop planters because we felt that the dark glaze and simple silhouette lend themselves nicely to a masculine arrangement for Father's Day. The drop pot program comes in variety of sizes and shapes, so multiple planters can be arranged for an intriguing planted group. The wide opening also allows for a full planted arrangement.

terrain: What tips would you give someone who would like to recreate a similar planting for their home?

The most important thing when it comes to container planting is deciding on where the container is going to live, what kind of light it will receive during the day, and how often it will be watered. Japanese maples generally prefer dappled light, but some varietals like Coralbark maples can tolerate full sun with thorough watering every two to three days. Conifers thrive in full sun and prefer moist soil but can also tolerate some drought conditions. Succulents and sedum thrive in full-sun and are very drought tolerant, surviving on a thorough watering once a week if the container drains. Herbs can suffer in the summer so they should be watered every other day.
Ready to create your own barbeque-ready planting? Visit your local terrain store for everything you'll need.
You May Also Like:
$109.95 – $248.00

$118.00 – $248.00