A Farmers' Market Dinner with Haven's Kitchen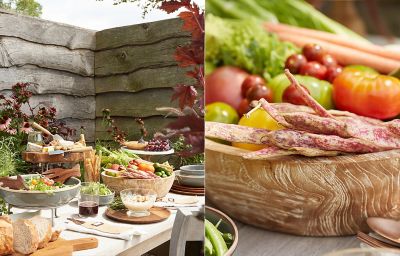 Here at terrain, we're longtime fans of Haven's Kitchen, the Manhattan-based cooking school focused on teaching the pride and pleasure of cooking with seasonal ingredients. A few years ago, founder Alison Cayne opened Haven's Kitchen to educate people about the ways that food can affect our environment, society, and daily relationships. Her new cookbook offers the same approachable, scratch-made recipes, practical techniques, and community-focused spirit that can be found in classes at the school. Over the next few months, Alison will be sharing inspiration, menus, and recipes for some of her favorite seasonal meals here on the blog. First up, a casual early fall dinner inspired by a trip to the farmers' market.
terrain: Can you tell us about the mission of Haven's Kitchen, and your new book?
Alison: I opened Haven's Kitchen in 2012, when word was starting to get out about the benefits of buying locally grown, non-processed food. The problem was that even though people were discovering a new-found love for all things food, they didn't know where to start with cooking. I wanted to teach as many people as possible how to make healthful, delicious meals, and help them support local growers and make sound environmental choices. My mentor, Joan Gussow, once said, "The world needs more cooking teachers." So, I became one. Five years later, Haven's Kitchen hosts weddings, corporate events, and tons of team building culinary experiences. We also just launched a new line of refrigerated sauces to make dinner more creative and fun for home cooks.
Our cookbook, The Haven's Kitchen Cooking School, is an amazing opportunity to help even more people learn how to cook, or help those in a cooking rut get back into the swing of being in the kitchen. Our goal with the book is the same as it is at the school: people will cook more and make better meals if they do it because they enjoy it, not because they feel obligated. We build confident cooks by teaching skills and techniques through recipes that people want to eat. Without confidence, there really can't be joy. And nobody's going to choose to cook if it's not at least a little joyful.
terrain: The number of options at a farmers' market can feel overwhelming – especially during harvest season! Do you have any suggestions for making the most of a market visit?
Alison: I like to do a run through of the market before I settle on buying anything. I do a little lap and make mental notes about what's exciting me, who I'm feeding, and the time and effort it'll take. The vegetables definitely dictate the menu. What's at the end of its season that I want to get the most out of before I don't see it for a year? Which fresh arrivals are a pure celebration of a new season? Some ingredients are alluring but time consuming. Fava beans, for example, are one of my favorites, but I'd only make them on a weekend.
While shopping for this fall dinner, I picked cauliflower as the star of the show because it's so versatile, and decided to make soup because it's a lovely way to usher in the cooler weather. Then I played around with flavors in my mind. What am I craving? What would l like to experiment with? This soup could be drizzled with an herb-infused oil, or sprinkled with spice blends like dukkah or ras el hanout from regions around the world. In this case, I kept it simple and light with bright parsley and crunchy croutons.
terrain: What's on the menu for this meal?
Alison: Cauliflower is amenable to all sorts of techniques and flavors. There are still so many bright herbs being harvested, so I wanted to make something comforting and mellow but jazz it up with bright, verdant herbs and crunchy, homemade croutons. That's a meal. I paired the soup with a gorgeous salad loaded with lots of different greens and a traditional vinaigrette, which works well with the flavors of the cauliflower. With a loaf of good bread, quality cheese and a pie, that's an ideal dinner to me.
The soup we made is a play on the roasted carrot soup from the Haven's Kitchen Cookbook. Roasting veggies before you puree them into a soup is a great way to coax out deeper flavor and add complexity. In the book, there's a whole section on tips for roasting, one on how to best cut vegetables, and a chapter on soups. This recipe, however, is pretty straightforward. Adding the shot of olive oil toward the end of blending gives the soup its luscious, silky consistency.
Roasted Cauliflower Soup
Serves 4-6
2 heads of cauliflower
1/4 cup extra virgin olive oil
Fine sea salt
Croutons (recipe below)
One bunch of flat leaf parsley, minced

1. Preheat oven to 425°F. Line a baking sheet with parchment.
2. Cut the cauliflower into evenly-sized florets, around 2 inches each.
3. Place cauliflower in a large bowl, drizzle with about 2 tablespoons of olive oil, and season with a large pinch of salt. Toss until evenly coated.
4. Spread cauliflower out on the baking sheet, make sure the florets aren't on top of each other.
5. Roast until the edges start to brown, about 20 minutes.
6. Transfer the cauliflower to a large pot and cover with water, about 5 cups. Bring to a boil over high heat, then reduce to a simmer and cook until the cauliflower is very soft, about 15 minutes.
7. Working in batches, use a blender to puree the cauliflower and the cooking water. Take care not to fill the blender too much as it could splatter. While blending, add the remaining olive oil. Add more water as needed to get a smooth soup.
8. Taste, season with salt, and garnish with parsley and croutons
Haven's Kitchen Croutons

1. Cut or tear crusty bread into bite-sized pieces.
2. Toss with olive oil and salt. (You can also add fresh thyme or cumin seeds.)
3. Bake at 350°F until crunchy, about 10 to 15 minutes.