Autumn at Styer's
The official start of fall is still a few days away, but the season is already in full swing at Styer's! We recently stopped by the store to explore the season's best décor, from colorful pumpkins and bright berries to glowing lights and candles. Read on for a tour of our favorite fall moments with Visual Manager Jenny J.
Above, cascading bundles of fall grasses and stems make for a striking, suspended curtain above our seasonal candles. Jenny says, "This display includes bunches of sea oats, yellow cigar millet, black sorghum stalks, huckleberry, Olympia seed pods (the green, seaweed-like bundle -- my favorite!), birch branches, curly willow, sugar pine cones, star pods, switchgrass, and miscanthus."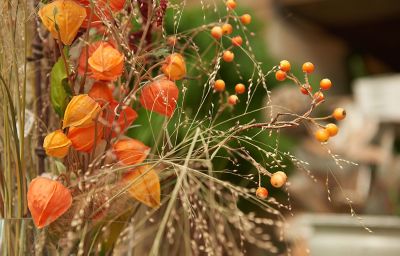 Foraged fall grasses mingle with some of our newest faux stems for a flame-hued bouquet. This autumn arrangement features a faux Japanese lantern stem and a spray of faux winterberries.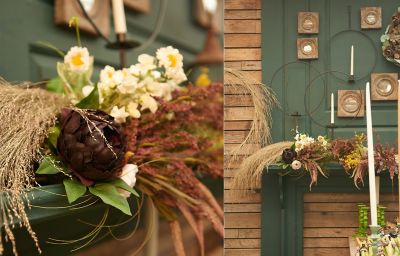 Autumn grasses also make a statement on the deep green mantelpiece above. Jenny says, "We foraged switchgrass and miscanthus to create the base for this arrangement, then mixed in some faux botanicals from Abigal Ahern. On the wall above the mantel, we grouped a wreath of verdigris blooms with some zinc-framed mirrors. Our new standing and hanging circle taper holders finish the look and showcase our fall candles."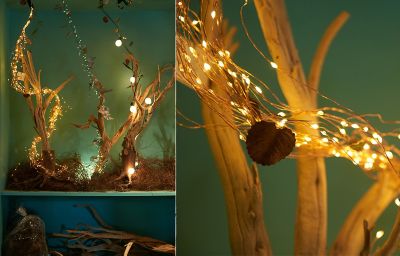 Stargazer lights are back for autumn, and a few of our favorite strands are taking the spotlight atop gnarled branches. For a fresh take on fall foliage, we're pairing lights with garlands of metal leaves.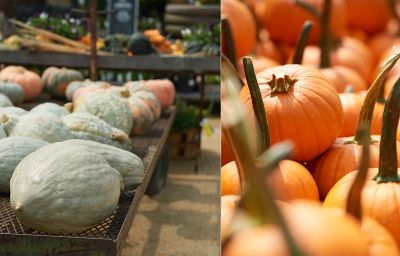 Finally, it wouldn't be fall without pumpkins! Fresh pumpkins are popping up all over the nursery, with lots of unique varieties to brighten autumn doorsteps and planters. Jenny says, "We like to highlight pumpkins in unusual shapes and colors that go beyond the classic bright orange sphere. Some great varieties include Cinderella (a flat, deep orange French heirloom), Long Island Cheese (delicious in pies!), Blue Hubbard Squash (shown above at left), One Too Many (a white pumpkin with red veins), and giant Prizewinners. There are so many more that we love -- take a peek at the signs around the nursery for the story of each pumpkin."
Take home the perfect pumpkin and more of our fall favorites in stores now, and join us to celebrate the season at our annual Autumn Bounty Festival on September 23.