Harvest + Holiday Light Looks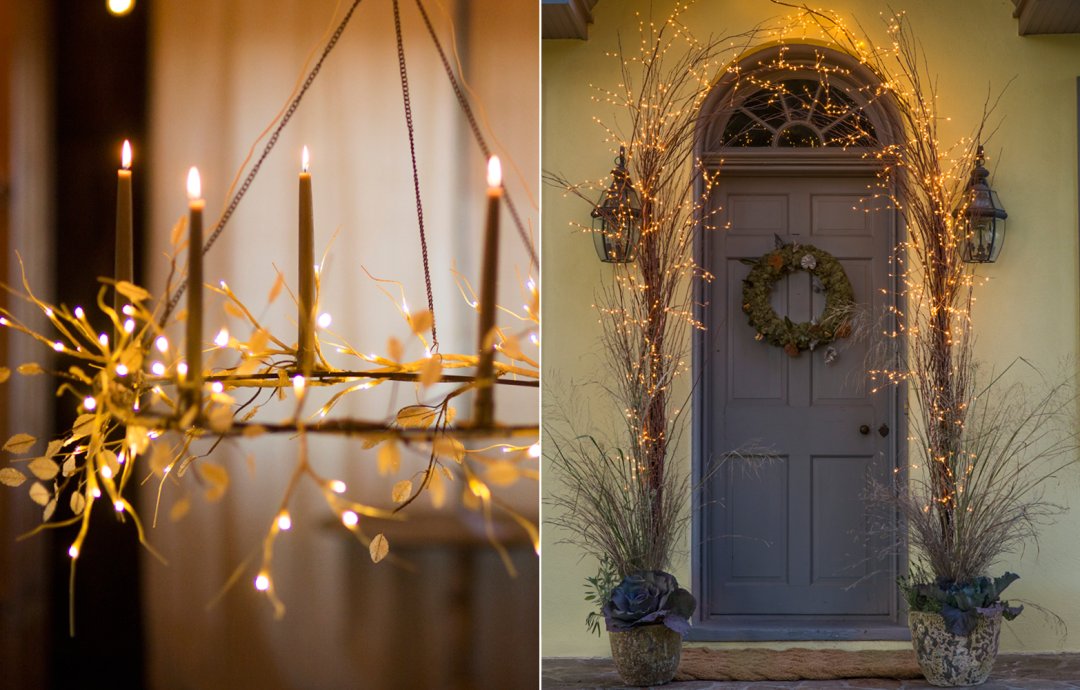 Our holiday lights have returned for the season, and the collection is bigger (and brighter!) than ever. Tiny glass baubles, climbing vines, and tinsel-wrapped lights are joining the collection for the first time, alongside our simple copper strands and cascades. To illuminate the harvest and holiday home, our stylists created some fresh displays using our favorite strands. Read on to get our glowing looks.
Left (above): Our ever-versatile Iron Candle Chandelier is wreathed with finds inspired by the winter forest. A lighted twig garland and taper candles provide a soft glow, reflected by a glittering garland of icy leaves.
Right: Our doorstep is framed by a dramatic archway of lighted branches. To get the look, our stylists used two 6' birch poles anchored in barnacle planters filled with cold-hardy plants. They tied a bundle of birch twigs to each pole, then bent them gently to form an arch. Along with the twigs, they added three Copper Twine Branch Lights on each side, plus one across the top of the arch. The twigs and lights were anchored with cords, tied in place behind the pole. Our stylists recommend tying each branch near its base, so the top can hang naturally.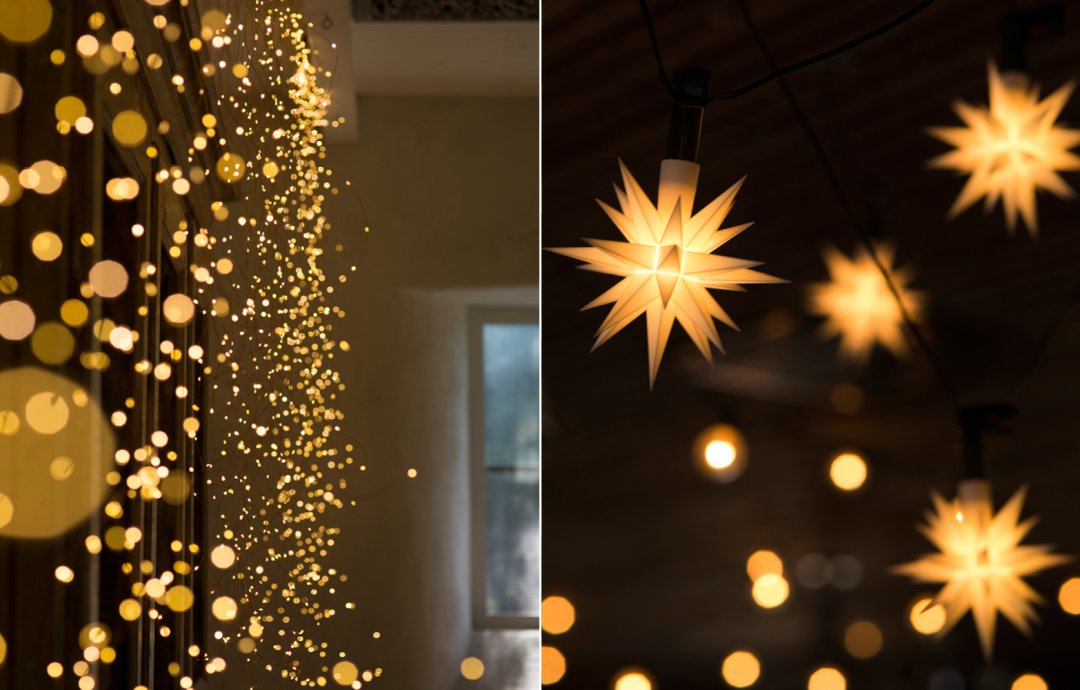 Left: Suspended from a transparent line, several sets of Cascade Falls create a starry curtain. Wrap individual strands of the cascade around the supporting line to spread them evenly across a space. We love this look to brighten a festive dining room or serve as a photo backdrop.
Right: A strand of Herrnhut Stars layered with globe lights adds a magical glow inspired by centuries of tradition. Originating in the Moravian Church, the 25-pointed star is a symbol for the Star of Bethlehem. In the nineteenth century, families would assemble a star together and hang it on the first Sunday in Advent. Today, our strand of weatherproof stars brings this tradition to indoor and outdoor holiday displays alike.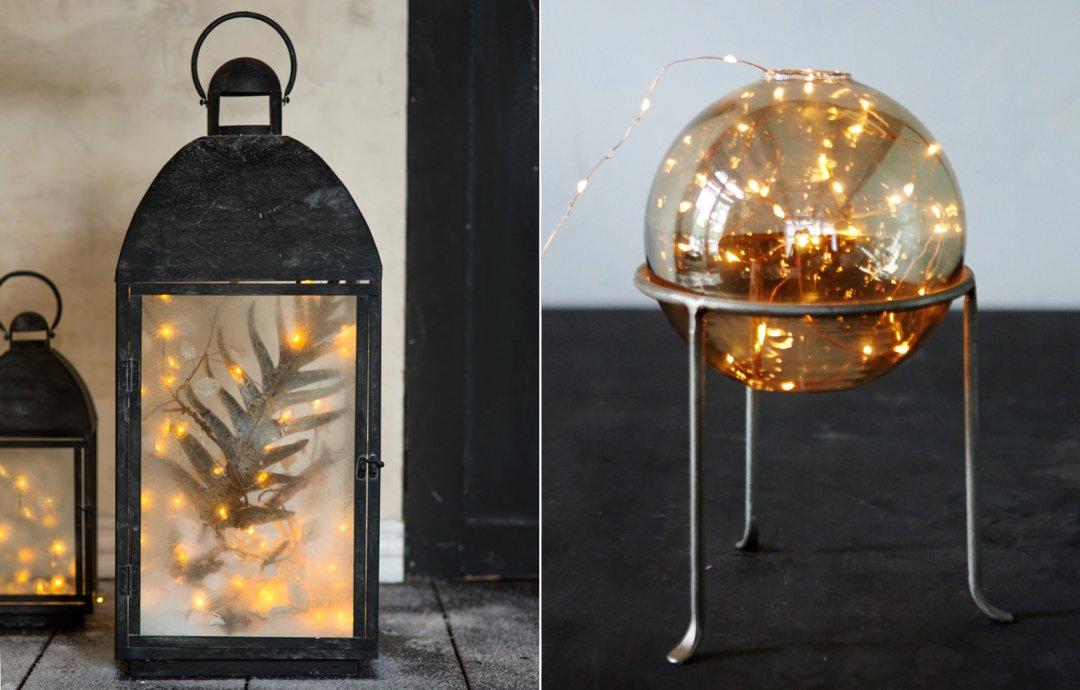 Left: Wrapped in a strand of Copper Twine Lights, a weathered metal fern frond fills our large-scale iron lantern. Our stylists used a faux frost spray to give the glass a wintry finish.
Right: A battery-powered strand of copper lights fills our bauble bud vase atop a simple, silver plant stand. Arranged in multiples, this elevated display makes a beautiful centerpiece or topper for the mantel.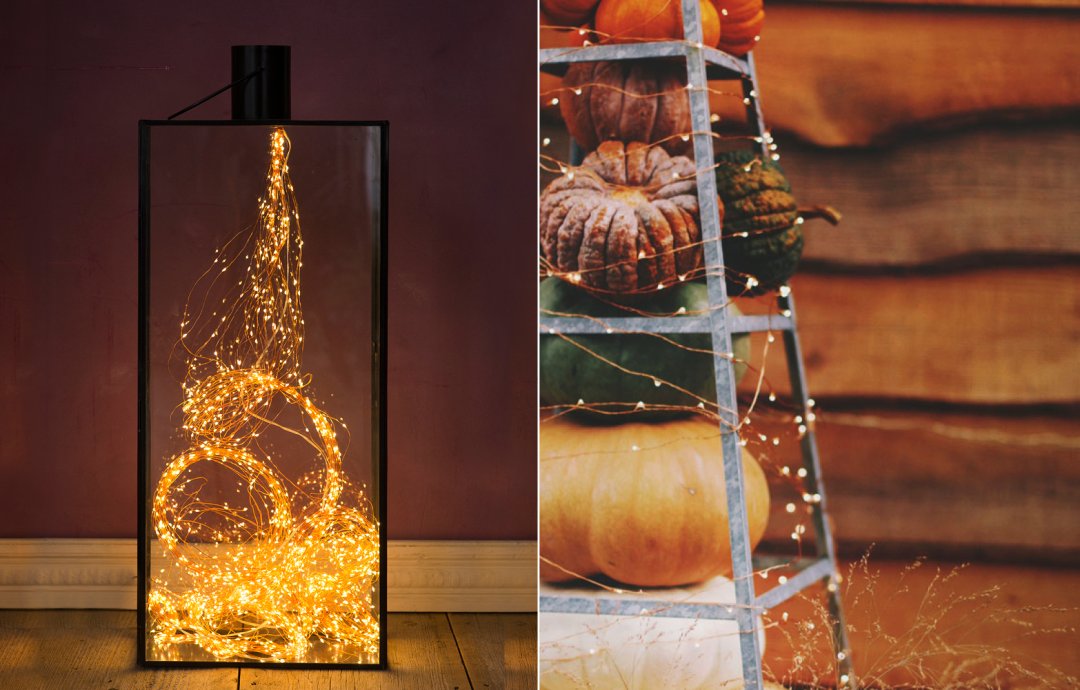 Left: Stargazer Cascade Falls Lights take the place of candles inside a sleek, large-scale lantern. We love this easy light look on the porch or brightening the corner of a room.
Right: Placed inside a tall garden structure, a stack of many-hued pumpkins and gourds is our most striking accent for the lawn or entryway. We wrapped the stack in a long strand of Copper Twine Lights to illuminate the display on long evenings.