Fall Garden Cleanup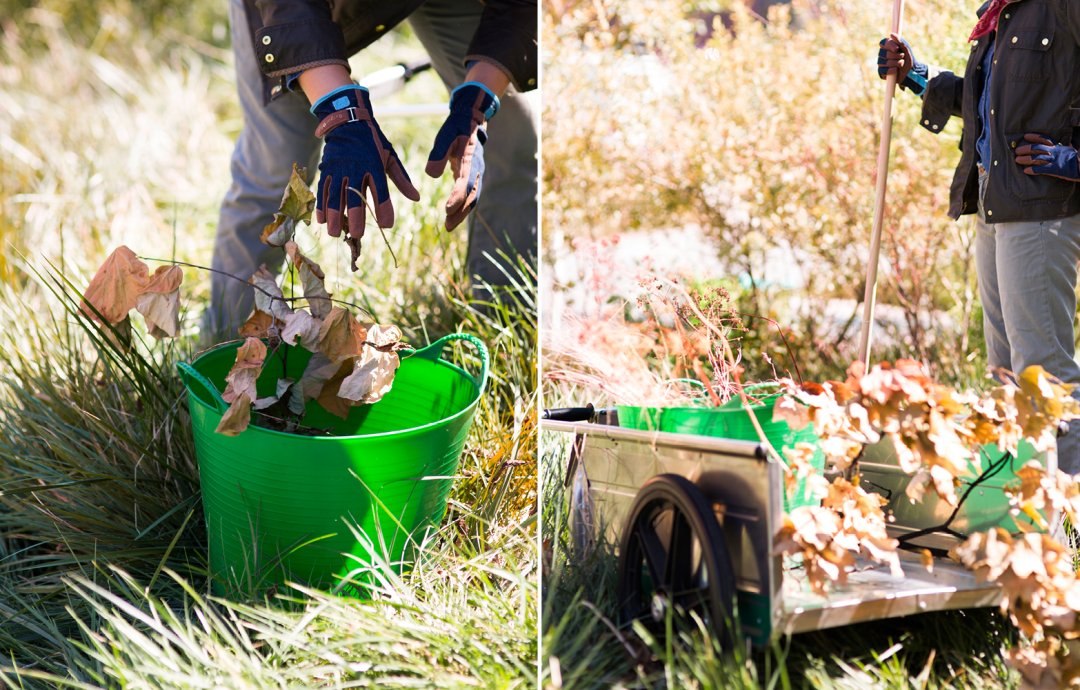 Now that fall has officially arrived, we're getting our gardens into shape for winter and beyond. Small tasks – like adding markers for dormant plants and trimming away damaged branches – can have a big impact on next year's landscape. We asked one of our experts, plant buyer Karen C., to share her essential steps for autumn in the garden. Below, she offers her tips for healthy overwintering, spring preparation, and much more.
Preparation for Winter

1. Pruning: Not everything in your garden needs to be pruned and deadheaded in preparation for winter – leaving ornamental items with seeds and berries such as grasses, sunflowers, echinacea, and rudbeckia can provide visual interest, plus winter food and shelter for animals and insects. Prune dead or broken branches on woody shrubs and trees before damaging winter weather arrives.
2. Mulching: Mulch garden beds with 2-3" of hardwood mulch or leaf mould, taking care not to pile directly against the base of the plant. This will maintain moisture and protect roots over the winter, and provide an extra barrier against weed seeds taking root.
Preparation for Spring
1. Landscape: Remove and discard diseased foliage from perennials and shrubs. Divide perennials like lilies, irises and daylilies, and mark any perennials that go dormant so you can remember their locations in spring. Remove tender bulbs such as cannas and dahlias and store for winter. Mark empty spaces in the garden, or plant spring-flowering bulbs that will fill those spaces next year. Finally, don't forget to weed! Removing weeds now will prevent them from going to seed and coming back in force next year.
2. Vegetable Garden: Remove and discard spent edibles from the summer garden, especially if they showed signs of blight or other disease. Don't forget to remove all roots as well. Mark where tomatoes and potatoes were planted to make sure you rotate planting locations next year. Plant cover crops to add nutrients to soil and deter weeds, as well as garlic for a delicious spring harvest!
3. Potting Shed: Clean your tools and store them in a dry, protected location. Empty, clean and store vulnerable pots, such as terracotta containers, in a protected space.
Preparation for Years to Come
1. Compost: Gather leaves and start a compost pile. In a few years, you'll have rich compost called leaf mould, which is a beautiful mulch and wonderful source of nutrients.
You May Also Like: