Fall Container Plantings with Design By Terrain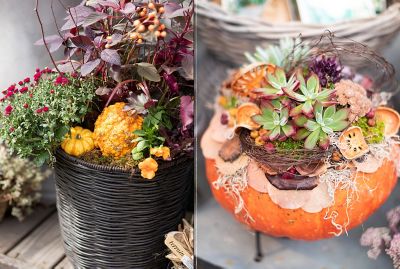 This fall, our Design by Terrain team found inspiration for their seasonal container plantings in hardy, seasonal produce that thrives and grows with the cold weather. Each planting is thoughtfully layered with contrasting colors, heaps of textures, and varying heights so each element shines. We chatted with Nicole Ferrante, one of the talented DBT team members, about why succulents are best planted in pumpkins and how cabbages transform through the season.

Basket Planting with Pumpkins + Planted Succulent Pumpkins

"Here, amaranth and pennisetum grass provide height and contrasting textures while faux orange berry sprays provide a pop of color (which can be saved and reused year after year)! Nesting pumpkins in container plantings is a great way to fill any space that is left open at the end of the planting for maximum fullness."

"Succulent-planted pumpkins make the perfect fall centerpiece, since succulents like drier conditions, allowing the pumpkin to last through the season. Once the pumpkin has passed its peak, the plants can be removed and potted into soil!" Here we mixed echeveria 'Devotion' with natural dried elements, quince slices, golden mushrooms, preserved leaves, angel vine, and spanish moss for a rustic, seasonal feel.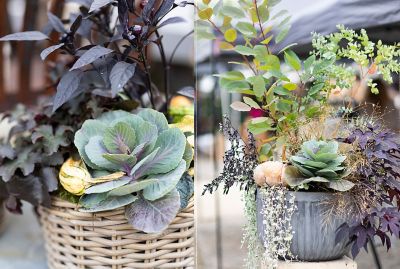 Cabbage Basket + Fiber Bowl

"Cabbages and kales make for bold focal points in fall containers. They're very cold-hady and the colors intensify as the weather gets cooler so you can enjoy the changing colors through the season." For the cabbage basket we added ornamental peppers and heuchera and for the fiber container, we added smokebush, Ipomoea 'Sweet Caroline Raven,' ornamental pepper, and Dichondra 'Silver Falls.'

Interested in your own DBT planting from the team at Styer's? Stop by or contact them today!