Essential Face Mists for Summer Skincare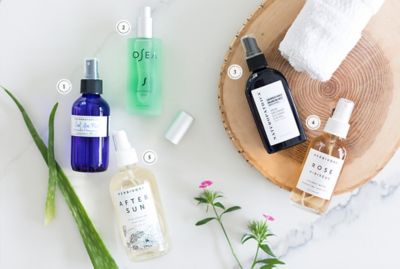 We've officially entered the dog days of summer - air thick with humidity, sunshine brighter than ever, and thunderstorms that come out of nowhere. It's a tricky time for skincare, since anything too heavy feels stifling on the skin and most products immediately melt off the moment you walk outside. Which is why facial mists are our summer skincare go-to. Light, refreshing, and hydrating, face mists are perfect for prepping your skin before applying moisturizer in the morning, perking up tired skin mid-day, and giving a dewy glow anytime. We rounded up a few of our favorites so you can effortlessly survive the rest of summer.

1. Farmaesthetics Cool Aloe Mist: This simple aloe preparation is a multi-purpose remedy for restoring and protecting the skin, as well as providing an aromatherapeutic boost. Aloe vera heals and relieves inflamed tissue while preventing further drying, flaking, or peeling. Witch hazel tones and refreshes, while lavender settles the skin and bergamot uplifts.

Key ingredients: aloe vera, witch hazel, lavender and bergamot essential oils

2. OSEA Sea Minerals Mist: An ideal delivery system for healing nutrients and antioxidants, this facial mist can be used as a daily toner or after-sun elixir. USDA certified organic Patagonian seaweed extracts and Dead Sea salt crystals provide hydration and restore mineral balance to reduce redness, tightness, and inflammation.

Key ingredients: organic Patagonian seaweed extract, Dead Sea salt, aloe leaf juice, honeysuckle flower extract

3. Naturopathica Lavender Honey Balancing Mist: We love using this refreshing toner in the morning before moisturizer to balance and prep the skin. Lavender flower water soothes irritated skin (and minds!) while honey acts as a natural humectant, drawing moisture to the skin.

Key ingredients: lavender angustifolia flower water, lavadin flower oil, honey

4. Herbivore Rose Hibiscus Face Mist: Blended with pure plant actives, this facial mist combines refreshing coconut water with youth-boosting hibiscus flower petals and hydrating rose extract to tone and soften all skin types. Witch hazel tightens and reduces discoloration, while aloe vera offers lightweight, healing moisture.

Key ingredients: coconut water, hibiscus flower, rose, witch hazel, aloe vera

5. Herbivore Aftersun Soothing Aloe Mist: An infusion of soothing aloe vera pairs with cooling mint and therapeutic lavender to offer natural relief for hot, sun-drenched skin in this refreshing mist. Use anytime to hydrate the skin and cool down; we like to keep this Herbivore formulation in the fridge for an extra-refreshing effect.

Key ingredients: aloe vera, lavender essential oil, peppermint essential oil

OSEA Sea Vitamin Boost Spray (not pictured): Gaining its rosy color from extracts of pomegranate and red wine that boost collagen and prevent cellular damage, this vitamin-rich mist restores moisture to dry or sun-damaged skin for a softer, healthier appearance. USDA certified organic Gigartina algae helps to bolster the skin's immune response and stimulate cell renewal for hydrating, soothing, and protecting the skin.
Key ingredients: pomegranate extract, Gigartina algae extract, wine extract, madder root extract, Vitamin C
Our other summer skincare must-have? Sunscreen of course! Be sure to read our interview with Supergoop founder Holly Thaggard to get the scoop on our favorite sunscreen.