The Many Charms of Microgreens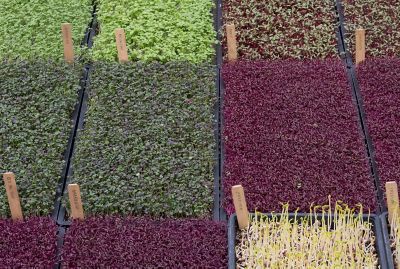 It's so very sad when our farmer's markets close for the winter. Goodbye tender lettuce, goodbye crisp scallions. But are seasonal winter greens really limited to brassicas only? (Lacinato, we love you, but our jaws need a break.) Enter microgreens – a nutrient-dense and flavor-packed alternative that can grow indoors. Gifted farmer, Carolyn Scott of Doe Run Farm, shared with us the secret to growing and eating these wonder-greens all year round.
terrain: What varieties of microgreens are grown at Doe Run? Why did you decide to start growing them, and are they grown in every season?
Carolyn: Here at the farm, we grow any and all varieties of microgreens. If I can get the seed and there is a demand for it, we grow it. Our current sowings consist of amaranth, beet, celery, scallion, basil, and other herbs. Occasionally we do sunflower, popcorn, and pea shoots.
I decided to start growing micros after seeing them years ago sold at Kimberton Whole Foods and grown by True Leaf Microgreens, a local farm here in Chester County. It seemed like a fun experiment. It was a way to utilize the space in the greenhouses and to supplement our salad greens during the winter months. Plus, they are just so beautiful and easy to grow! I've been growing them here at the farm for 4 years now and at this point, we grow them all year long.
terrain: Could you tell us a bit about the growing process?
Carolyn: There are many methods for growing microgreens, and it's easy enough once you've got a few basic supplies.
I use one-inch deep flats that I order from Paperpot Co. (a great resource for farmers!). I fill the trays with a fine germination media and slightly compact it down. Then I sow the seeds, sprinkling them densely across the surface. Depending on the variety, the seeds germinate quickly under our misting benches. From there, they grow in the greenhouse where they get optimal light and reach their harvest point in about 10-20 days. We harvest with scissors, wash, and bag them up. They last for about a week or so in the refrigerator.
terrain: Any tips for home gardeners hoping to grow microgreens of their own?
Carolyn: Begin small and simple, with something you like. I suggest cabbage or radish because they germinate most quickly and evenly. Cress, also called Cressida, is another good one.
Seeds come in a variety of different flavors and colors and you'll be tempted to try them all! Try not to overload yourself, you'll end up wasting time and money on something that should be easy and enjoyable.
Johnny's Selected Seeds is a good source for seeds. One way that home gardeners could get started is by reusing any small 4" pots from whatever annuals bought last summer, fill them (to the top), with fine texture potting soil or seed starting mix. Sow your seeds densely and lightly cover them with soil. Water them gently but thoroughly so that they are saturated. A spray bottle will work for this. Put them in a warm spot to germinate and keep them moist, then put them in a bright spot to grow until they're ready to harvest.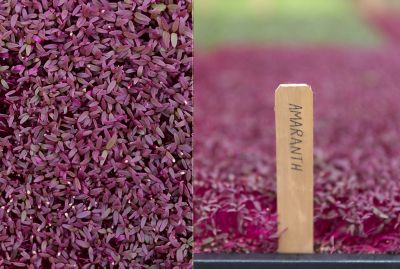 terrain: Do you have any favorite dishes that incorporate microgreens?
Carolyn: So many favorites! Many folks think microgreens are just for garnish but that is really under appreciating their potential. I love putting red radish micros in my ramen noodle bowls for an extra spicy kick. Any soup is better with some freshness added. I like to mix the scallion micros into dishes like sautéed mushrooms or scrambled eggs, they add subtle flavor and a nice color pop!
One of my staple incorporations is with pizza! I dollop a heap of micro cress in the middle of my slice and wrap it up for a huge punch of nutrition and spicy flavor! So good!
Another super easy favorite of mine is dip. I'm a huge fan of dip! Try adding some micro celery and dill to your favorite recipe, or even just add to plain Greek yogurt. Of course they can easily accompany any sandwich, salad, wrap, sauce, or recipe that calls for fresh herbs or greens.
terrain: Are the microgreens from Doe Run sold at any local restaurants or markets?
Carolyn: We sell most of the micros to our neighbor restaurant, The Whip Tavern, and also you can find them at the URBN market in Philly once a month.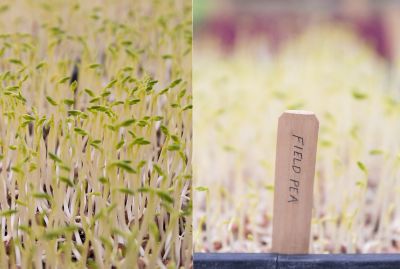 You May Also Like: