Dry Cocktails with Clare Liardet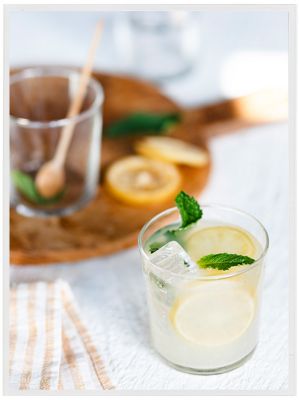 January always feels like a fresh start - a time to re-establish your daily routine after the chaos of holiday celebrations and focus on your well-being. One of our favorite ways to press the reset button? Taking a break from booze for the month. But this doesn't mean we're eschewing cocktails completely! With the help of Clare Liardet's mocktail recipe book, Dry, we're ready to craft delicious, refreshing drinks that don't require alcohol to taste great. We recently chatted with the chef, teacher, and author to get her professional opinion on all things dry.

terrain: What inspired you to write Dry?

Clare: A variety of reasons! I live in the countryside so I'm often driving after a night out - plus, I have teenagers who enjoy making their own cocktails. Not to mention, being in the hospitality industry where drinking is a part of life, I got very bored sipping on sparkling water while I was pregnant!

terrain: What can folks expect to find in Dry?
Clare: I approached writing Dry the same way I approach cooking. I rooted the book in the seasons, since it's always more fun to play with fresh ingredients. Plus, experimenting with different flavors, ice, and glasses can add another whole level to a gathering of close friends and family.

terrain: Aside from the obvious, are there any major differences in a dry cocktail recipe versus a boozy one?

Clare: There's a depth and complexity that alcohol gives a cocktail that has to be imaginatively recreated in non-alcoholic drinks. When you simple remove the booze from a classic cocktail, you are often left with something overly sweet and a bit flat. The challenge is to add the complexity that has been lost. To this end, I started experimenting with syrups made from fresh herbs to get a bitter, woody, aromatic or floral backnote to the drinks I created for the book.

terrain: Is there a basic formula for creating a dry cocktail recipe? Are there certain profile elements that you put in each recipe?

Clare: I think it helps to think about layering rather than a formula. First, I'm thinking about acid - citrus, fruit, or shrub. Then I choose a carrier, whether it's tonic, soda, or even kombucha. Next are added background notes for depth and complexity - these are hard to pinpoint but are vital. Think spice or herb syrups. Finally, I add the high note that the nose encounters first, which comes from a citrus twist, fresh herbs or something like a stalk of lemongrass. The main thing to remember is to experiment and taste, taste, taste!

terrain: Why do you think it's important to sometimes take a break from boozy cocktails?

Clare: Where to start? Aside from the obvious reasons of giving your wallet and body a rest, there are so many good reasons for taking a break - better sleep, clearer skin, and improved memory. It's often the subtler reasons that make the biggest difference, like giving yourself time to do a jigsaw puzzle, sort through old photos, or actually have a conversation with a completely clear head.

terrain: Who do you hope will enjoy these recipes?
Clare: I think it's such a wonderful gift to make the non-drinker feel as special as all the other guests at a party - I often offer a non-alcoholic cocktail to everyone when they first arrive to my home. With something as punchy as my chile and lime margarita, many people have no idea there is no actual booze involved and yet the party has started. An interesting cocktail in hand takes the spotlight off being the non-drinker and everyone can concentrate on what is important - having fun with the people you enjoy being with!

Our beverage director, Steve Wildy, is another enthusiastic proponent of dry cocktails - stop by one of our cafes to sample his creative concoctions for yourself!

You May Also Like: