6 Things: Drought Tolerant Plants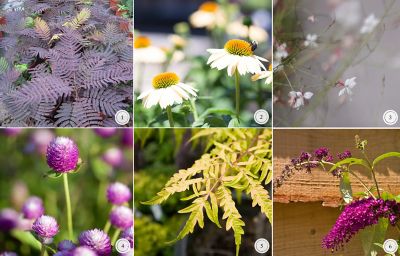 We've entered the dog days of summer, with temps regularly topping out in the triple digits - it can be tough to keep our more delicate plants from drying up in the sun. To give our gardens some much needed relief, we asked Kerry Ann M. from our greengoods team to clue us in to some heatwave-friendly plants - read on for six of her favorites.

"Drought tolerant plants tend to be those that are deeply taprooted (roots that extend down into the earth where water is often more available) or ruderal species (plants that quickly populate disturbed sites with little water or nutrient input). Keep in mind, however, that all plants - from herbaceous annual plants to the toughest woody tree species - need to be well-established before their drought-resistance shines. A new planting of anything will need a constantly supply of water regardless of how drought-tolerant the established plant might be."

1. Albizia 'Summer Chocolate': A ruderal species with narrow, luscious brown leaves and pink poofy flowers (note: narrow-leafed trees and shrubs are better adapted to self-water management, i.e. willows and oaks) and the darker leaves means it's more accepting of the heat.
2. Echinacea paradoxa: A taprooted prairie plant that prefers full sun and dry, well-drained soil.
3. Gaura: Long flowering with light, airy white-to-pink flowers on wand-like stems, this ruderal plant will rot if watered too much. Less is more here.
4. Gomphrena globosa 'Fireworks': Another ruderal species with lots of color all summer long - this one LOVES the heat!
5. Rhus typhina: A tough-as-nails groundcover shrub with incredible fall color (burnt reds to dark maroon).
6. Buddleia: This ruderal species will add fragrance to hot summer nights, give color to waning borders, and attract winged friends of many kinds.
Ready to help your garden beat the heat? Visit your local terrain store to check out our latest summer-ready options.
Photo credits: 1. Leonora Enking 2.terrain 3. Kentama 4. Dwight Sipler 5. terrain 6. terrain
You May Also Like:
$64.95 – $138.00

$88.00 – $138.00