Perfect Pairs with The Farm at Doe Run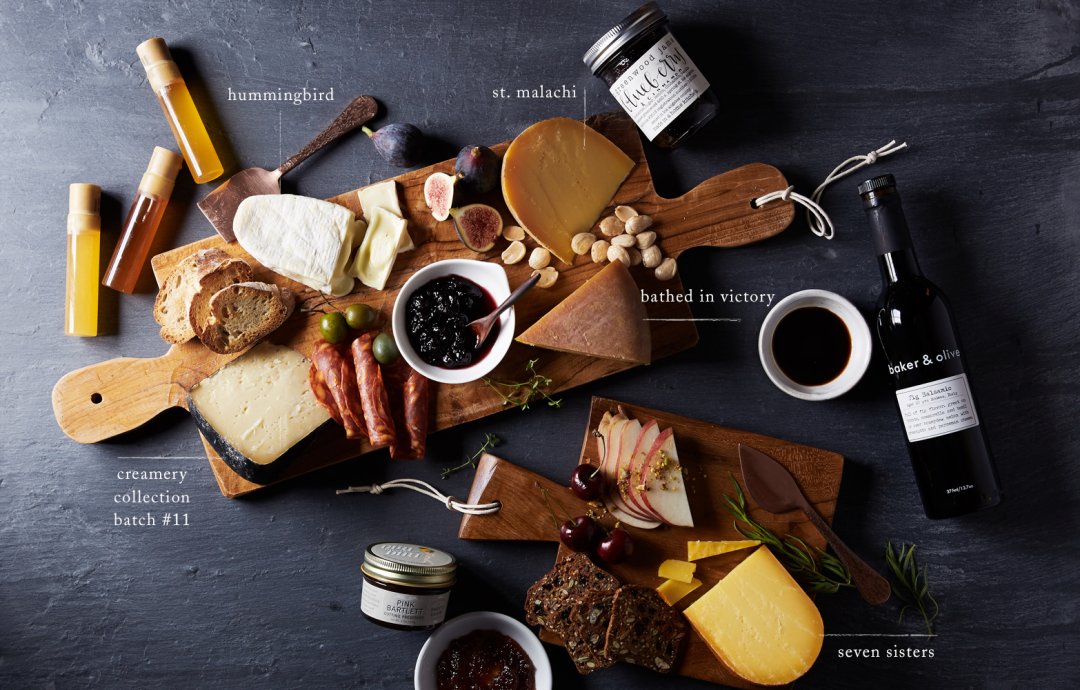 With autumn gatherings on the horizon, we turned to our friends from The Farm at Doe Run to create a beautiful, seasonal cheese board. Starting with milk from the farm's herds of pastured cows, sheep and goats, Doe Run cheesemakers Samuel Kennedy and Matt Hettlinger thoughtfully craft small batches of cheese, then age them to perfection in caves of locally-quarried stone. Each season, we eagerly await their newest additions to our cheese boards. Below, Matt shares his favorite fall pairings for five Doe Run cheeses.
Hummingbird: This fresh, bloomy cheese offers a flavor that's light and delicate, just like the bird that shares its name. It pairs perfectly with fruit jams and honey, as well as highly-carbonated dry ciders.
St. Malachi: Recently lauded at the American Cheese Society's annual awards, St. Malachi is an Alpine-style cheese with notes of toffee, roasted nuts, buttered toast, and fruity pineapple. Pair with apple paste or butter, nuts, sweet aged balsamic, and Tröegs DreamWeaver Wheat beer.
Bathed in Victory: Made in partnership with Pennsylvania's Victory Brewing Company, this cow's milk cheese is a favorite among the staff at Doe Run. Washed in a Victory beer, it takes on the flavors of hops, yeast, and fruit. Matt suggests serving it with raspberry jam, carmelized onions, and a cold Victory brew.
Seven Sisters: Cave-aged at Doe Run, this Gouda-style cheese offers a sweet, buttery flavor with a hint of wildflower honey. Accompanied by pears, bacon jam, and brown ales or Octoberfest beers, it's one of our fall favorites.
Creamery Collection Batch #11: The Creamery Collection includes special, limited edition batches of cheese inspired by local collaborations, seasonal ingredients, and noteworthy techniques. #11 is a Spanish-style cheese with a spicy, well-balanced flavor; Matt recommends pairing it with apple butter, pumpkin butter, and Spanish-style or Iberico ham.
Doe Run cheeses take center stage on our Garden Café cheese board with fresh accompaniments for each season. Make a reservation for the Garden Café at Styer's or Westport.