Refresh + Renew: Essential Oil Bath Salts in Weck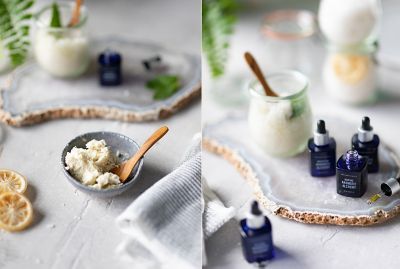 Whether you're looking for a sweet gift for your girlfriends on Valentine's Day or for an indulgent treat to yourself, a jar of essential oil-infused bath salts is a simple, luxurious spa product you can make at home. We love customizing individual jars to support specific therapeutic benefits by changing up the essential oil we use in each. Read on for our easy recipe, plus a few descriptions of our favorite essential oil blends.

Restorative Essential Oil Bath Salts
Naturopathica Aromatic Alchemy Essential Oil Set
Epsom Salts
Shea Butter
7.4 oz Weck jars
Optional: dried citrus, lavender pods, other natural elements
Instructions: In a bowl, combine about a cup of Epsom salts with a tablespoon of shea butter. Add in a few drops of essential oils, combine all ingredients, and pour mixture into Weck jars.

How to use: Add to a hot bath to soak in the healing benefits or use in the shower to exfoliate and hydrate your skin.
Essential Oil Blends
Chill Aromatic Alchemy: Prized by herbalists for their relaxing effect, notes of chamomile are blended with sparkling lemon verbena and neroli blossoms and then layered with bee balm to calm anxious thoughts, soothe frayed nerves or promote relaxation.

Inspire Aromatic Alchemy: Inspire the creative muse with this mélange of rich Balsam fir needles, pink grapefruit, red mandarin and mood-balancing St. John's Wort to encourage self-confidence and ground the emotions.

Meditation Aromatic Alchemy: Ancient sacred oils of sandalwood and frankincense are blended with grounding essences of ginger root, clove, cardamom and sweet orange. Practice mindfulness and promote clarity with daily meditation.

Re-Boot Aromatic Alchemy: Invigorating lemongrass and peppermint energize the senses while holy basil, a staple of Ayurvedic medicine, is used to help increase the body's resistance to stress.
Wamt more natural ways to enhance your skincare routine? Visit our Spa Shop for our full collection of oils, scrubs, balms, lotions, and cleansers!