From Garden to Kitchen with The Great Dixter Cookbook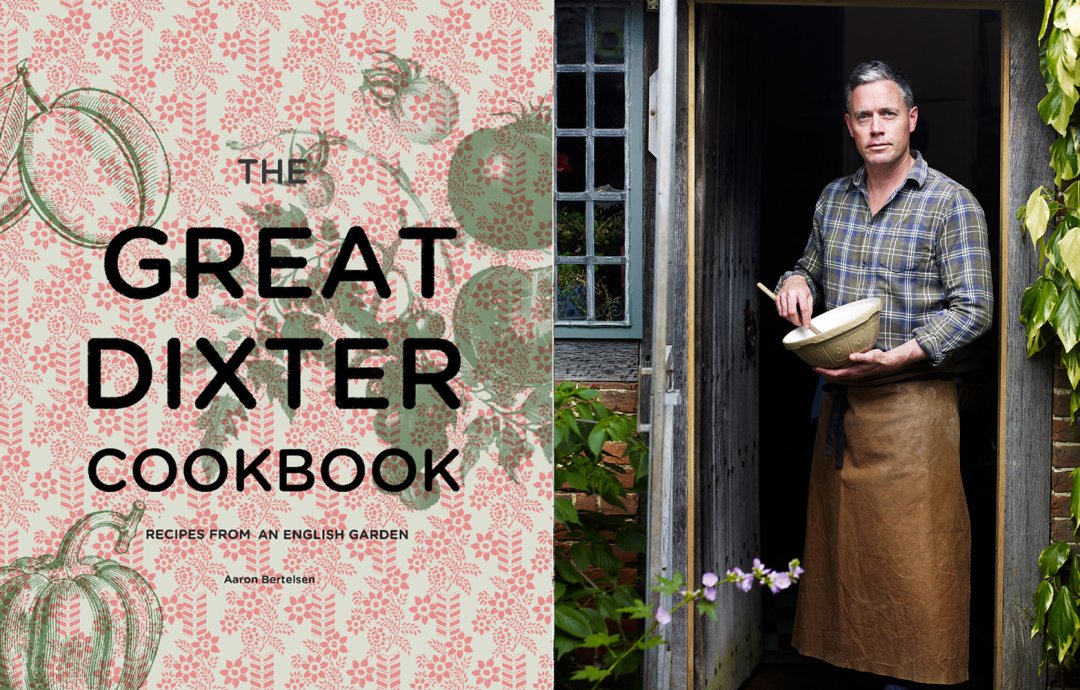 On March 28 at Styer's, we'll welcome author Aaron Bertelsen to the Garden Cafe for a dinner celebrating his new book, The Great Dixter Cookbook: Recipes from an English Garden. Since 2007, Aaron has been the vegetable gardener and cook at England's renowned Great Dixter House and Gardens. Simple, seasonal and resourceful, his recipes serve as a reflection of the harvest throughout the year. Before his visit to terrain, we caught up with Aaron to talk about the book and his work at Great Dixter, from tomato cultivation to the lasting legacy of influential gardener Christopher Lloyd.
terrain: How did you come to work and cook at Great Dixter?
Aaron: I first came to Great Dixter as a gardener and student in 1996, and the job has evolved ever since. I've been here on and off since that time, during which I also trained at Kew Gardens in London and a botanical garden in Israel. I returned to Great Dixter in 2006, and took over the vegetable garden in 2007. I've had a lifelong interest in gardening that began with helping my grandfather in his garden as a child. At Kew, we also had to grow vegetables during our first year. The cooking evolved out of necessity -- as a bachelor, I had to learn how to cook my own food. It eventually became part of my job as well, and now I cook for the many friends and guests who visit Great Dixter. I think the book reflects my style of cooking, in that the recipes are intended to make at home with produce you've grown.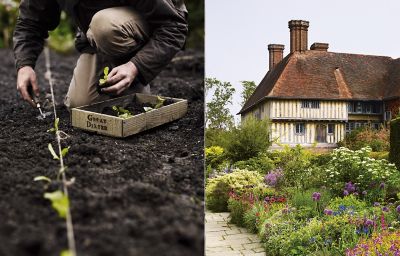 terrain: What inspires you when creating a new recipe?
Aaron: My recipes are completely based on the seasons. Because I'm a vegetable gardener, I know when the peak moment for a particular ingredient has arrived. My aim is to create recipes that don't detract from the flavor of fresh vegetables; I want to keep their natural flavor while cooking them in interesting ways.
terrain: What do you enjoy cooking in spring?
Aaron: In England, spring is quite a tight time for what's available in the garden. It's really the leanest time of year for us. The winter crops are coming to an end, but spring vegetables haven't yet arrived. This time of year, a wild garlic grows in the woods, which I like to use for making risotto. I also like to cook with the seedheads of beetroot, which has run to seed by this time.
terrain: What's happening in the garden and kitchen at Great Dixter this time of year? Are you trying out any new crops this season?
Aaron: Right now, we're getting ready for planting -- seed sowing starts next week, both under glass and directly into the ground. We try out a few new varieties every year, but the first things to be planted are lettuces, beetroot, parsley, early salad mixes, and potatoes. I'm about to go on a tour of the States for the book, and will bring back some seeds from there as well.
terrain: Can you talk a bit about Christopher Lloyd and his legacy at Great Dixter? Which of his recipes in the book is your favorite?
Aaron: Christopher was a friend, and a big influence on me and my cooking during the years that we both lived at Great Dixter. He was completely involved in the kitchen garden. In fact, it was the part of the garden he visited every single day, so he could see what was ready. When the cook died, he took over the kitchen and became a great cook himself. Christopher was a very good, traditional cook who made flavorsome food. I especially like his recipes for tomato chutney and chocolate steamed pudding, which was an old family recipe that his mother used to make.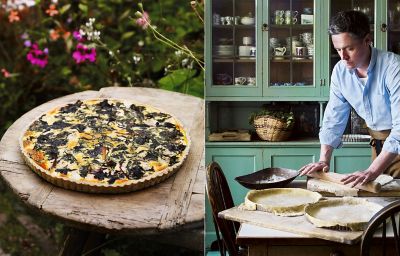 terrain: What's your favorite recipe from the book?
Aaron: My personal favorite is the Tomato Tart. It has an amazing flavor, and really celebrates summer. If you grow vegetables yourself, you know that a crop of ripe tomatoes hails the middle of summer. We grow a tomato variety in Britain called 'Crimson Crush'; a friend of mine found it, and it's pretty much blight-resistant. It's difficult to find a tomato with the right balance between blight resistance and flavor. Tomatoes can be a tough crop in England because our climate is wet and humid, which makes many varieties prone to blight. For English vegetable gardeners, our tomato crops are how we judge each other!
Tomato Tart
Serves 8
Oil or butter, for greasing
Flour, for dusting
2 3/4 cups (350g/12 oz) plain (all-purpose) flour
Pinch of salt
1 1/2 sticks (175g/6 oz) cold butter, diced
1 egg
2-3 tablespoons cold water
4 tablespoons whole grain mustard
8 large tomatoes (about 850g or 1 3/4 pounds in total), sliced quite finely
2 tablespoons grated Gruyere cheese
2 tablespoons olive oil
Salt and Pepper
For Shortcrust Pastry: Put the flour and salt into a bowl and rub in the butter until the mixture resembles coarse breadcrumbs. Add the egg and, using a knife, stir in just enough cold water to bind the dough together. Tip the dough onto a lightly floured work surface and shape into a ball. Cover with clingfilm (plastic wrap) and chill for at least 30 minutes, or ideally 1-3 hours, before using. Makes enough to line one 12-inch/30-cm tart pan.
Preheat the oven to 350°F/180°C/Gas Mark 4, placing an oven rack in the lower part of it. Grease a 12-inch/30 cm loose-bottom tart pan.
Roll out the pastry (dough) on a lightly floured work surface until it is large enough to line your tart pan.
Spread the mustard on the bottom of the pastry case (shell). Place some sliced tomatoes around the edge of the case (shell), making sure they overlap, then fill in the middle. Sprinkle the cheese over the tomatoes, season with salt and pepper, then drizzle with the oil.
Place the tart on a baking sheet and bake on a low oven rack for 40 minutes. Take the tart out of the oven and carefully slip off the outer ring, leaving the tart sitting on the base. Return to the oven on the baking sheet for another 5-10 minutes so that the sides get really crisp.
Aaron will host a dinner inspired by dinner inspired by The Great Dixter Cookbook on Tuesday, March 28 at Styer's. See the menu and reserve your space here.
Photography © Andrew Montgomery. Photos and recipe from The Great Dixter Cookbook by Aaron Bertelsen, Phaidon 2017.