Dinner Party Icebreakers with Gail Simmons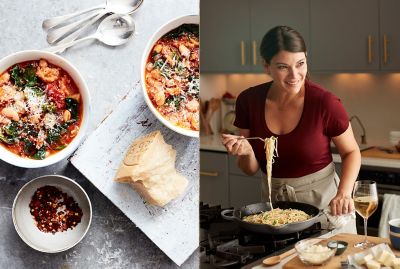 If you're a fan of Bravo's Top Chef, FOOD & WINE, or any of the myriad publications where her books and recipes have appeared, our guest Gail Simmons needs no introduction. A self-proclaimed "eater, writer, traveler, and cook" Gail fills her days between the set of Top Chef and her New York City home, where she is an active board member and supporter of City Harvest, Hot Bread Kitchen, Common Threads, and the Institute of Culinary Education.
Busy lady that she is, we are beyond thrilled that Gail is making a stop at Terrain in March to host an evening of drinks and bites from her newest cookbook, Bringing It Home. In anticipation of her visit, and for all our friends who won't be able to join us, Gail stopped by to answer a few get-to-know-you questions sure to break the ice at any cocktail or dinner party.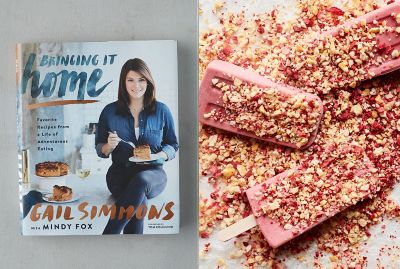 terrain: Gail! Thanks so much for joining us. Let's cut right to the chase: given the choice of anyone in the world living or dead, which 3 people would you want as dinner party guests and why?

Gail: At this moment in time I think I would need to invite 4 people as follows: Oprah (because she's the QUEEN of great food and soulful conversation), Michael Pollen (because he is a thought leader in the food and agriculture space and I have a million questions for him, from food labeling laws to the Farm Act), Jimmy Kimmel (because I really appreciate his point of view, taste in food, and sense of humor), and Marie Antoinette (because she knew how to throw a dinner party!).

terrain: If you could only have one food for the rest of your life (and it wouldn't negatively affect your health in any way) what would it be?

Gail: Bittersweet, dark chocolate (72%)! It's the perfect treat, creamy and rich, a little tannic, a little mysterious, and totally magical. It lifts my mood and always satisfies my cravings.

terrain: What is your favorite activity in your current job? How often do you get to do it?

Gail: I love that I get to travel as much as I do. Although it can be stressful and difficult to be away from my home and my family, I gain so much inspiration and insight every time I get on a plane to a new city and have a chance to explore. My job has taken me from Savannah to Singapore, Aspen to Alaska, and Mexico to the Middle East. Along the way I have gathered a million memories, eaten extraordinary meals, and built so many lasting relationships. I appreciate that as a mother, my daughter now comes along with me at times and I can see how our adventures shape her worldview, teach her tolerance, empathy, humility, and respect for the planet. Travel is what ultimately inspired me to write my cookbook Bringing It Home and what determines so much of what I cook, eat and share with the world. I probably travel for work about 8-12 weeks of the year, more or less.

terrain: What does your ideal night off of work look like?

Gail: There is nothing I want to do more at the end of a long week than be at home with family and friends. I love casual entertaining, cooking a meal together with friends and lingering at the dinner table or on our back patio in the candlelight over a great bottle of wine. That said, some of my favorite nights also include curling up on the couch with my husband, a bowl of popcorn, and movie too!

terrain: If you could wake up tomorrow having gained any one quality or ability, what would it be and why?

Gail: I would love to have the ability to speak and understand a million languages! Communicating with people from all over the world in their own tongue is a beautiful thing to be able to do. I think learning language really helps challenge and expand our minds. I can speak French and Spanish decently but am always amazed when I meet people who can speak four or five languages fluently and switch their train of thought effortlessly from one to another. It's a gift that makes the world a smaller place, builds bridges and promotes kindness and global awareness.

terrain: What is the most unusual thing you have ever eaten?

Gail: It's a toss up between cod sperm, served to me in Tokyo as part of the best omakase sushi dinner of my life, and a bag of deep fried and salted larvae my former boss once brought back for me from Thailand (they tasted like crunchy popcorn!). Both were surprisingly delicious, but it was difficult not to dwell on what I was actually eating.

terrain: For what in your life do you feel most grateful?

Gail: This is way too broad a question, as I feel more and more grateful for what I do, how and where I live all the time. The obvious answer is my 4-year-old daughter and our new baby that is on the way (I'm due in May!). Being a mother is the greatest joy, as cliché as it sounds. I am also grateful that I found something to do for a living that gives me enormous satisfaction and has allowed me to build a close community of wonderful friends and colleagues in a city I adore (NYC/Brooklyn), and beyond. I feel challenged by my work in the food space and the places it takes me, the channels it crosses, doors it opens and the many ways that it touches people lives every day.
What did we tell you? Gail knows how to get a good conversation going. Come say hello in person when she visits us in Glen Mills for drinks and bites from Bringing it Home on Monday, March 12th at 6pm. Tickets and more information here.
You May Also Like: