Dinner with Dorie Greenspan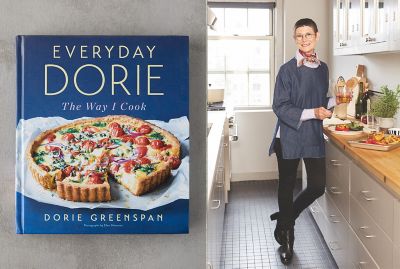 It's not often we get the opportunity to host a James Beard Award winner at terrain - so we're thrilled to welcome Dorie Greenspan to our Westport location on Friday, October 26th for a four-course meal inspired by her latest cookbook, Everyday Dorie: The Way I Cook. With 13 cookbooks under her chef's apron, Dorie says this one is full of recipes that are "simple, full of flavor, never fussy, and often surprising." And as for the inspiration behind it? Dorie explains "I'm cooking all the time, reading, traveling, going out to eat, getting inspiration from a million sources, but in the end, the recipes reflect the way I like to cook, what I like to eat and what I like to serve." Read on for more of our charming chat with Dorie and be sure to reserve your space at the dinner table.

terrain: What sets Everyday Dorie apart from your other cookbooks?

Dorie: Perhaps what sets this book apart from my others is its simplicity. After cooking for so many years for so many people, I'm more easy-going in the kitchen. I want food that's comforting and satisfying, but I want to get this food simply. That's why my recipes use ingredients that are easy to find and why they can be made with skills most beginners already have.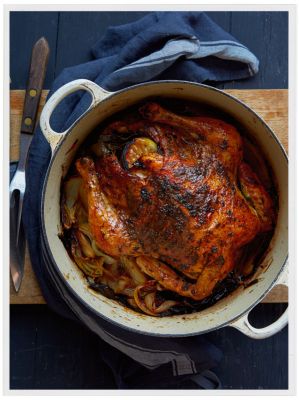 terrain: You've given the reader so many recipes to try in this book – and they seemingly all work well together in some way or another. Can you talk to us about that?

Dorie: It's interesting that you say that the recipes seem to work well together – you're right! It was not something that I set out to do, but it was kind of inevitable: the recipes reflect what I love and the style of food and meals I like.

I love to mix and match, to make what I think of as indoor picnics. I love a dinner where there are a bunch of dishes on the table and everyone gets to pass things around, try a little of this, a little of that and, in a sense, create their own meal. The recipes in Everyday Dorie lend themselves to this kind of patchwork.

terrain: Do you find that you cook differently when you're at your home in Paris, New York, and Connecticut?

Dorie: I don't think I cook that differently in each of my kitchens, but for sure I shop differently. In Paris, I shop at the outdoor markets year-round. In New York, I shop at small stores along Broadway. And in Connecticut – except in the summer when there are wonderful farmers' markets – I shop at the supermarket. In many ways, Connecticut has influenced my cooking most because it's made me a more practical and creative cook. Some of my favorite recipes came about because I didn't have the ingredient I wanted, so I substituted something I already had.

What's different among the three places is how often I have friends come to dinner. I cook more often for friends in Paris than I do in NYC or CT – and that's because my friends are more available. In Paris, it's easy to round up friends just a couple of days ahead – it takes weeks to arrange a dinner at home in New York!

terrain: What can we always find stocked in your pantry and fridge? Any surprising items home cooks may not normally think about but are actually delicious and helpful in the kitchen regularly?

Dorie: I keep a 'wardrobe' of condiments on hand – they can make an ordinary dish special in a flash. One of my favorites is homemade "Lemon Goop" (the recipe's in the new book) – it's a blend of whole and peeled lemons, salt and sugar cooked until the lemons are translucent. You puree the lemon pulp into a jam and save the syrup. I use the syrup to flavor marinades and vinaigrettes and I swipe the jam over everything from chicken and pork to swordfish and scallops. I'm never without it.

"My aim [with all my cookbooks] is always the same: I want to encourage people to get into the kitchen, to take pleasure in the time that they spend cooking, and to enjoy sharing what they've made with family and friends," Dorie shares.

Join Dorie at our Westport location on Friday, October 26 for a four-course meal inspired by the recipes inside Everyday Dorie - click here to reserve your seat.

Photos courtesy of Ellen Silverman


You May Also Like: