Digging into Spring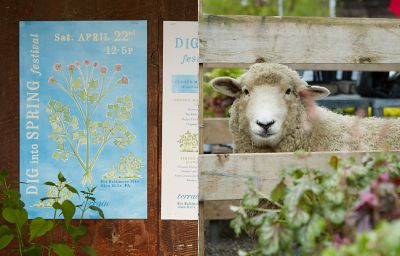 Last Saturday at Styer's, we celebrated our favorite season at the annual Dig into Spring Festival. April showers couldn't dampen our spirits as we welcomed spring with lots of local friends, live music, sweet and savory treats, fun for the little ones, and much more. Events Manager Diane S. says, "In spite of the rainy forecast, we were joined by 23 artisans from Clover Market, who brought along jewelry, stationery, ceramics, clothing and accessories, and lots more. Local growers from Happy Cat Farm and The Farm at Doe Run also stopped in with their freshest produce and cheese. Throughout the day, Strings of Prussia and The Midnighters Band filled the nursery and store with music."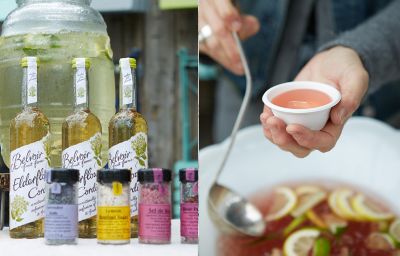 For festival goers in need of a snack, the Garden Cafe offered up gourmet burgers and hot dogs from the grill, plus lamb gyros and a crowd-pleasing combination of grilled cheese and tomato soup that was perfect for the cool temperature. Those in search of snacks and sweets could sample freshly-made truffle popcorn, Bloody Marys, Belvoir cordial spritzers, and creative chocolates from Éclat. Diane says, "The Vetri Mobile Teaching Kitchen also joined us, offering visitors of all ages the opportunity to chop fresh veggies and try their hands at some healthy recipes."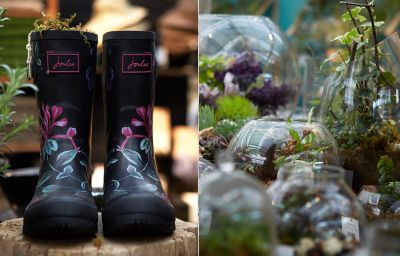 We also welcomed a very special spring visitor, who became the star of the festival. Diane says, "Prado de Lana Farm stole the show with their sheep, Lavender! Visitors were able to pet Lavender, feed her hay, and see the beautiful yarn produced from sheep on the farm." Throughout the day, our nursery experts helped customers prepare for spring with drop-in terrarium plantings, while Abby from Design By Terrain created custom container gardens at our potting station. Finally, our youngest guests enjoyed springtime face painting and kid-friendly crafts. We can't wait to continue the celebration this weekend, when the Dig into Spring Festival heads to Westport on Saturday, April 29!
If you missed the festivities at Styer's, join us for the Westport Dig into Spring Festival this Saturday, April 29. We'll be celebrating spring from 12-5P, followed by a cocktail hour and book signing with Chef Joshua McFadden, author of Six Seasons.