Dig into Spring, April 25 + May 2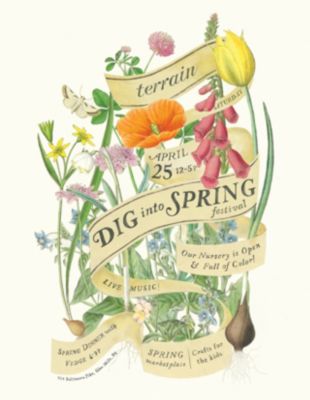 With our annual Dig into Spring festival right around the corner, we're hard at work getting the nursery ready for garden season. We'll be celebrating spring on April 25 in Glen Mills and May 2 in Westport, and we've invited lots of friends to join in the fun. At Styer's, we'll be joined by Lily B. & Co., Lock and Key Confectionery, OSEA, the Natural Lands Trust, and peony expert Eleanor Tickner. Westport's festival will include Michael Michaud, Indie Lee, Chestnut Organic Farm and Two Roads Brewing Co., as well as a signing with Sweet Paul and artist Ellen Hoverkamp. We'll also have gardening demonstrations, activities for the little ones, live music, marketplaces of local vendors, and much more. Each day's festivities will close with a special spring meal; the Styer's dinner will be hosted by Richard Landau and Kate Jacoby of Vedge, while Westport will welcome Sweet Paul and food writer David Leite. Find all the day's details and RSVP for our spring workshops here.
Click the image above for a downloadable PDF of the Styer's festival poster, and stay tuned for a preview of our Dig into Spring dinner with Vedge!