Sneak Peek: Terrain at Devon Yard Store Preview
Terrain at Devon Yard is just days away from opening and our incredibly talented team has been working around the clock to transform our newest location into a lush, green space that's overflowing with our signature natural style. Devon Yard is our third brick-and-mortar location with a full home store and nursery, and includes a greenhouse restaurant, cafe, and indoor-outdoor event space - we can't wait for you to experience all it has to offer. Our photo team stopped by recently to check in on the progress - and to snap a few sneak peek photos to share with you. Devon Yard opens Thursday, August 16, at 9am. We'll see you soon!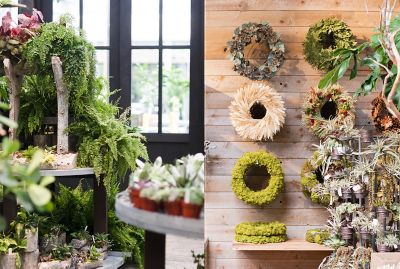 Fresh ferns and succulents fill our outdoor nursery while faux, metal, and preserved wreaths hang out on the wall inside.
In addition to the plants available in our nursery, we're also offering on-site container design, as well as planting + seasonal home design services that are individually tailored to your space.
Terrain at Devon Yard is located at 138 Lancaster Avenue in Devon, PA 19333. We're open Monday through Saturday, 9am to 8pm and Sunday 9am to 6pm.
You May Also Like:
$11.95 – $21.95

$48.00 – $88.00