Designed by Terrain, Especially for Mom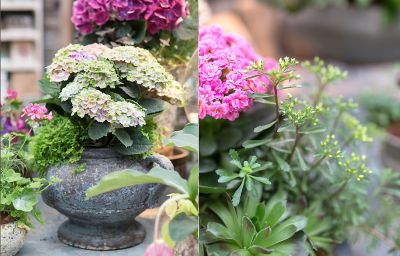 If you're still in search of the perfect present for Mom, the folks from Design by Terrain have been busy planting a collection of green and blooming gifts. Available through Mother's Day, these living gifts are designed to suit every Mom's style, from classic, fragrant florals to unique, modern plantings. Recently, we stopped by Styer's to chat with designer Abby R. about each look.
Abby says, "This spring, our Mother's Day designs are a mix of 'fragrance and floral' styles as well as more contemporary pieces. Above, some colorful hydrangeas are accented by trailing club moss in a classical, urn-shaped planter from the Barnacle collection."
"We repurposed some glass tea light holders to create these sweet, small plantings of neon orange ornithogalum in nests of dried angel vine, which make the perfect add-on gift. If you're in search of something that Mom can grow season after season, a terrarium is a timeless pick. This year, we've added florals like kalanchoe, African violets, orchids, and begonias for extra interest in our terrariums. Certain flowering plants really thrive in a terrarium, making for a low-maintenance blooming gift."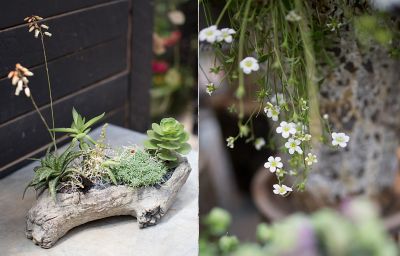 "For busy moms who don't have a lot of time for garden maintenance, a succulent garden is the perfect pick. We filled a rugged cement planter in the shape of a weathered log with a variety of succulents for a container that doesn't require extensive care. At right, a trailing Saxifraga provides a pretty contrast to its rugged planter with dainty, white blooms."
"One of our favorite color combinations this spring is pink florals against a backdrop of bright green foliage, as seen in these Barnacle planters. Below, low bowls serve as a streamlined base for plantings of kalanchoe trios and orchids. These make a great option for a centerpiece on the spring table, and can be elevated with a matching plant stand."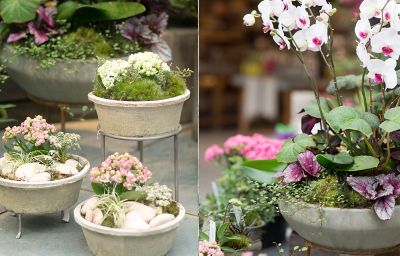 The selection and availability of Design by Terrain gifts vary by location; please visit your local store to shop the current collection.
You May Also Like: