Behind the Scenes: Moss Walls of Styer's and Westport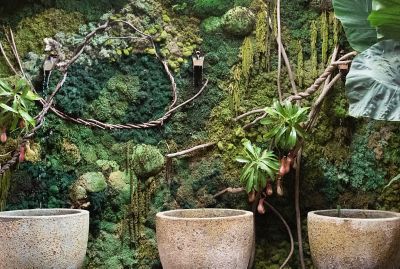 If you've visited either our Westport or Styer's store locations, you've undoubtedly been stopped in your path by a lush, verdant wall covered completely in moss. These in-store green installations are becoming something of a terrain signature with variations in the works for our new location in Devon. Our visual display store team likes to call the moss wall a "wow moment" - a peaceful spot where visitors can pause to appreciate the dramatic greenery, listen to the water features, and, of course, take a few photos. Our photo team recently captured some gorgeous shots of the installations at Westport and Styer's, so we thought it would be nice to catch up with Beth C. at Styer's and Matt B. at Westport to learn just how they made the moss wall magic happen.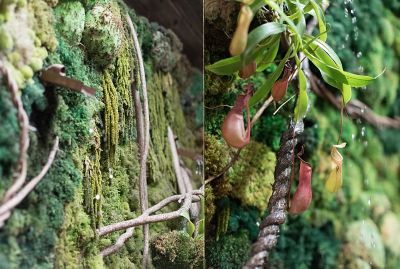 Beth: In the winter of 2017, we decided to update the green wall at Styer's. Melissa B., our field visual director, suggested creating a preserved moss wall. It's a wonderful alternative to the green wall because the moisture from watering the plants was creating issues with the integrity of the wall behind it. We referenced the work of a California-based artist who creates beautiful moss walls, and combined that inspiration with what we might find during a local nature hike - lots of vines, ferns, and mushrooms. We also wanted to have the sounds of running water, so we added a fountain feature. I came up with the design using the moss wall inspiration, our popular barnacle pots, and ebony teak plant stands. To create the piece, I framed out a plywood wall that I could hide the fountain tubing behind, screwed in large pieces of grapevine, and then stapled and hot glued preserved reindeer moss, pond moss, clump and sheet moss, amaranth and shelf mushrooms too. We used all dyed preserved mosses so that there wouldn't be any fading in color or watering necessary. And there's no maintenance other than an occasional dusting!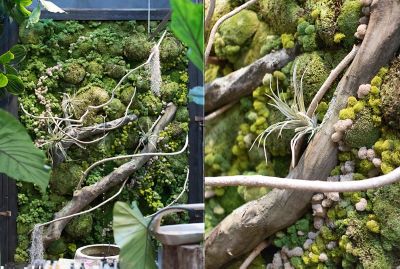 Matt: We totally got inspired by what Beth was doing at Styer's with her moss and fountain wall. We also ended up being inspired by a long time customer who came through Design by Terrain in April of 2017. He was a local newscaster who'd seen some living walls in California while on business and came back to terrain "needing one"! He wanted a pretty huge piece with moss, succulents, and driftwood and told us that it would be a beautiful addition to his home. The only issue was that it needed to be installed in his basement. All jokes aside, he has a pretty awesome basement so a preserved moss wall was definitely the best fit.

The finished result was so beautiful and low maintenance that we decided to make a couple smaller ones for our cafe and spa as well - and we built the entire thing in our in-house studio! This helped tremendously because we were able to lay out the entire composition and change it around until it worked before we adhered a single piece of moss to the wall piece. We injected expandable foam gap filler between the moss and the wood, allowing it to expand into the texture of the underside of the moss and the wood. This also helped create some movement under the moss suggesting uneven ground surface beneath.
Ready for your own moss wall in your home or garden? Contact our Design by Terrain team to start your plans today!
You May Also Like: