Design by Terrain: Hostess Gift Ideas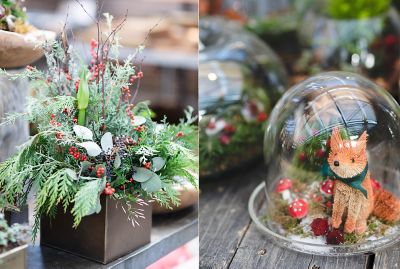 With the holiday season in full swing, our calendar is packed with festive parties, which means we're on the hunt for hostess gifts that feel both special and seasonal. Our Design by Terrain team has been hard at work creating gorgeous arrangements that you can gift friends and family who invite you into their home this holiday. Francis H., our DBT supervisor at Styer's, says "the winter landscape is a wealth of inspiration for our designs, from the rich, colorful blooms of cyclamen, amaryllis, and poinsettias to the fragrance and textures of cut greens and branches." Read on to see our recent favorites and hear Francis' inspiration behind each.

Pops of Red (pictured above)
"We planted up red amaryllis with a petite jasmine in our habit + form square planter and added in a mixture of fresh greens for texture and color until the amaryllis blooms open. I love how this piece brings in both color and fragrance. The cloche featuring our fox ornament was created by adhering the fox to a base of moss with woodland bits, mushrooms, and snow to create the miniature scene. We added ribbon as the final touch to give the fox a boost of personality. This piece is especially wonderful for gifting since it requires no care and can be placed wherever a little holiday cheer is needed."
Amaryllis + Concordville
"Here we have two low maintenance pieces for the home. In the first photo, a habit + form saucer is paired with a waxed amaryllis bulb wrapped in Stargazers, and then nested in sheet moss and lichen-covered twigs. This is wonderful for an office desk or an area with lower light, since the waxed bulb requires no water. In the fishbowl terrarium, a Concordville gazebo is illuminated with Stargazers and placed in a bed of fresh greens. A slight mist around the fresh cuts every couple days or so will keep this looking lively, making it another perfect choice for an easy to care for statement piece."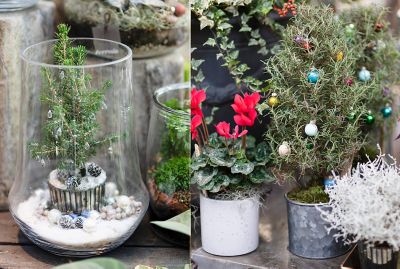 Evergreen Terrariums + Hardy Potted Plants
"For those with more of a green thumb, we have a selection of potted plants displayed in various ways. In this tall terrarium, a miniature conifer is planted into an icy blue votive holder and embellished with glass drop ornaments, pinecones, and snow. This wintry design imitates the best parts of this season. We see red blooming cyclamen and a rosemary topiary, placed in glazed ceramic container and a habit + form cylinder, respectively. The beauty of our drop-in plantings comes from their versatility to be used singularly, or placed en masse to create a colorful tablescape or mantel display."

As Francis says, "with Design by Terrain, we aim to meet everyone's needs - from simple houseplant drop-ins for the home gardener to centerpieces for the party host."

Contact your local DBT team to get started on your own planting today!
You May Also Like: