Design by Terrain: Living Valentines
Last minute shoppers, rejoice -- there's still time to find the perfect present for your Valentine thanks to the folks from Design by Terrain. Designer Abby R. says, "This year, we wanted to showcase unique Valentine's Day gifts with planted, flowering designs that will last much longer than a standard bouquet." On a recent visit to Styer's, we took a peek at some styles that are sure to impress your sweetheart.
Taking an elevated approach, the collection of wall-mounted plantings above makes the season's most striking display. Abby says, "We decided to create living shadow boxes using our wooden crates. We wanted to focus on the simple beauty of the plants, and single specimens of cyclamen and orchid were a perfect match for this concept." On the left, a magenta cyclamen is planted inside a textured glass vessel against a mossy backdrop. At right, an assortment of orchids creates an airy garden wall. Often found perched on trees in the wild, orchids are ideal for wall-mounted displays like these because they're epiphytic, drawing nutrients from the air and water rather than the soil.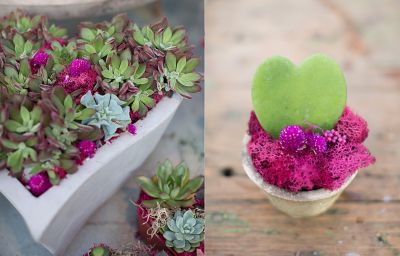 Other Valentine designs feature vibrant pink accents that were months in the making. Abby says, "Over the summer, we dried some of our Farmgirl Flowers bouquets, and have been waiting for the perfect time to incorporate them into our creations. We get to play with brighter pops of color around Valentine's Day, so we finished these plantings with dried magenta gomphrena and bright pink reindeer moss. The colors are dramatic together, and bring out the pink accents of our favorite succulent varieties, like the Echeveria above in a heart-shaped pot." At right, the season's most charming gift comes in the form of Hoya kerrii. Also known as "Sweetheart Hoya," this tropical plant sprouts naturally heart-shaped leaves.
Lush and green, the miniature landscapes below make for our most natural Valentines. On the left, a simple wooden trough holds a planting of clump moss, rough-hewn stones and Pilea, a shade-loving shrub native to tropical climates. At right, a textural planting places spiky tillandsia against a many-colored backdrop of weathered wood, pink-tinted Fittonia, and Hypoestes, commonly known as "polka dot plant." Find all these styles and lots more from Design by Terrain in stock at Styer's this Valentine's Day.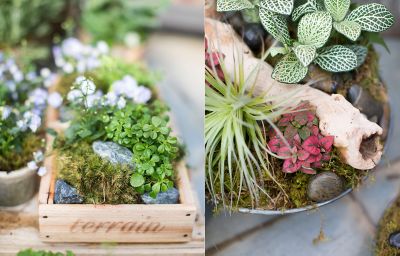 You May Also Like: