Dahlia Planting with Floret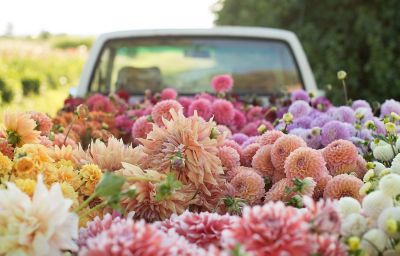 As we gather inspiration for the spring landscape, we can't wait to read Floret Farm's Cut Flower Garden, the brand-new book from our friends at Washington's Floret Farm. Founder and flower guru Erin Benzakein welcomes readers into her abundant, bloom-filled world, with expert advice for cultivating more than 175 flower varieties. As our favorite summer-blooming dahlias arrive for planting season, Erin joins us to share her tips for a successful dahlia garden. Pre-order your own dahlias here, and read on for more with Erin.
Erin says, "I get asked all of the time what my favorite flower is and answering always feels a little like singling out a favorite child. In truth there really are no favorites, just preferences at a given moment depending on circumstances like the mood that day, what's peaking in the garden, the weather and so on. However, in August and September, the favorite flower question is always answered: dahlias. Dahlias, dahlias, dahlias…last summer we grew over 7,000 plants, and this year we'll have close to 10,000!"
"During the long, hot summer stretches, I often dream about them, counting to fives, rubber-banding their stems and placing them into water. Over and over again. Many late summer days are spent entirely in the dahlia field, from sunup to sunset, harvesting and bunching, driving truckloads back and forth to the cooler. On dahlia harvest days, we are all ready for the change of pace and welcome the monotonous, beautiful, steady task that it is.
"Here at Floret, we've tried numerous approaches and techniques to growing our dahlia crops over the years. I thought I'd share what all that trial and error has boiled down to. Our little two-acre farm is situated on top of a sandbar, literally. If you dig down just a foot, you'll find silver beach sand, so we rely heavily on large doses of compost for fertility and thick mulches to help retain moisture through the drier parts of the season. We generally begin field planting about two weeks after our last frost date, which here in Washington's Skagit Valley is in late April. Prior to planting, all our beds are amended with 3-4 inches of good compost and a general organic fertilizer."
"This combo is mixed into the soil and then tubers are placed roughly a foot apart down the row, with two rows per bed. Dahlias need a lot of water throughout the season. We use drip irrigation, so the water gets directly to the root, and then mulch over the top of it with a thick layer of leaves or dry grass clippings to help keep the water from evaporating. While this process is a bit labor intensive on the front end, once the tubers are in, the irrigation is in place and everything is mulched, we do very little to them for the remainder of the season.
"When sprouts begin to emerge from the soil, normally a few weeks after planting, we go through and pull back the mulch from around them, so they can easily get up to the light. Once the plants reach roughly 12 inches tall, we give them a hard pinch (snip out 3-4 inches of the growing center) which encourages low basal branching, increased stem count, and overall stem length. Stakes are placed every 10 feet on the outside of the beds and twine is tied to them to help corral in the bulky plants."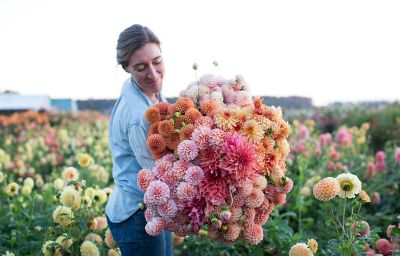 "Insect pressure varies from season to season. Some years aphids come in abundance, other years thrips are a big issue. Earwigs, those little buggers, are always lurking, ready to chomp the perfect blooms. We've found the healthier the plants, the less insect pressure we experience, so we do a lot of work to keep plants healthy and well-watered throughout the season. Plants are a lot like humans and the stronger their immune systems, the easier time they have fighting off invaders.
"While dahlias aren't a terribly long-lasting cut flower, their brilliant, colorful blooms make up for their fleeting existence. The trick for longest vase life is harvesting flowers during the cool of the day, when flowers are about ¾ of the way open, and placing them into cool water straight away. If you have a packet of flower food lying around, be sure to add it to the water. That magic powder will add a few additional days of vase life to your fresh blooms.
"Dahlias are the workhorses of the late summer garden. Just a few plants will provide seemingly endless bouquets for the house. They are super easy to grow, come in a rainbow of colors, and are nearly unmatched in terms of flower production. With all of these amazing qualities, what's not to love?"
Erin Benzakein is the founder of Floret, a two-acre flower farm in Washington's Skagit Valley, which offers training workshops and specialty seeds and supplies for small flower farmers from around the world. Her new book, Floret Farm's Cut Flower Garden: How to Grow, Harvest and Arrange Stunning Seasonal Blooms, was published by Chronicle Books in March 2017. Photos above by Chris Benzakein.
How do you keep snails off the dahlias?