Dad's Day at the Garden Café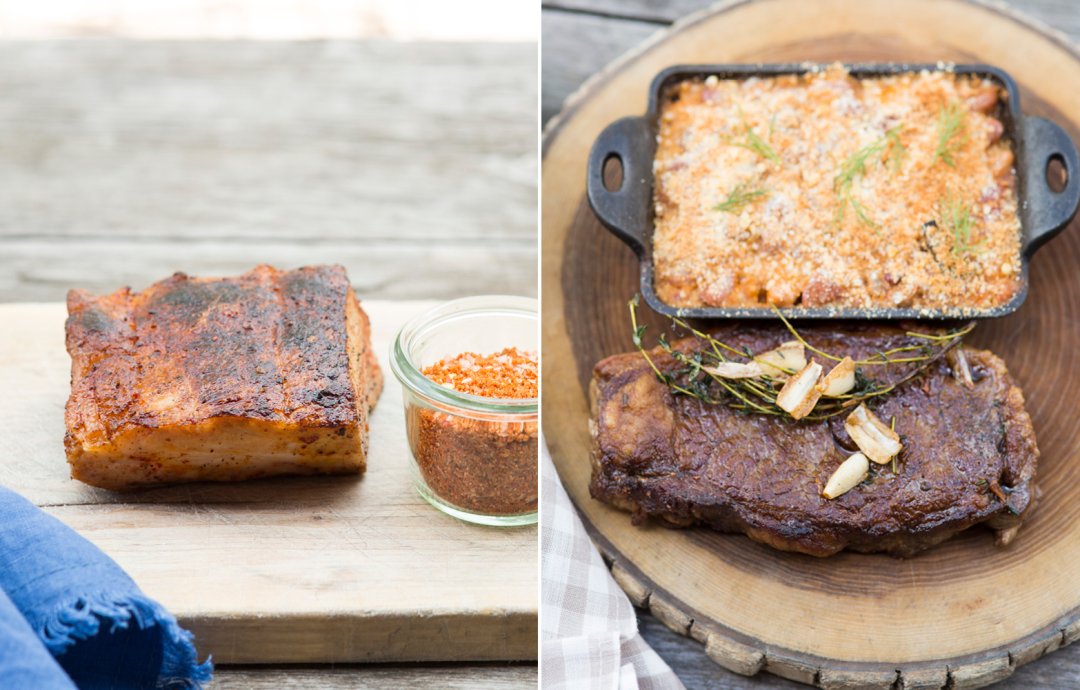 Filled with long evenings and Father's Day celebrations, June is the perfect time to host a summer barbecue. We love a classic burger, but this year we've got bigger plans for our Dad's Day dinner thanks to the Garden Café. We headed to the table with Chef Ryan B. for a pair of recipes that are ideal for celebrating Dad. A fresh take on traditional baked beans pairs perfectly with grilled steak, while a sweet and spicy rub with two kinds of chili is ready to dress up smoked pork belly-- or any other cut of pork that's on your barbecue menu. Read on for the recipes and fire up the grill!
Brown Sugar & Chili Pork Rub
1 cup brown sugar
1 cup salt
2 tablespoons Espelette chili
4 tablespoons chili powder
1 tablespoon cayenne
1 tablespoon black pepper
2 tablespoons mustard powder
Ryan says, "We use this rub on pork belly that we've brined in a 3-2-1 brine. That's 3 gallons water, 2 pounds of salt, and 1 pound of sugar, a recipe that can be scaled to fit whatever amount you need. The pork belly is brined for 24 hours, then left to dry for 24-48 hours in the fridge. We rub the meat, then place it in a smoker at around 225°F for 3-4 hours. Wrap it, let it rest, then slice when you're ready to eat."
Strip Steak & Farmer Bean Gratin
"We simply season our strip steaks with kosher salt and cracked black pepper," Ryan tells us. "We sear the steak on high heat, then finish it with a pat of butter, a clove of garlic, and a sprig of thyme on top. I like to serve grilled steaks with a farmer bean gratin, which is a fancy version of baked beans. They're my favorite baked beans ever, and a hint of fresh dill really makes them taste summery and fresh!"
Farmer Bean Gratin
500 grams cannellini beans
500 grams red beans
500 grams cranberry beans
200 grams diced fennel
200 grams diced onion
15 grams garlic
12 grams salt
1-500 gram can San Marzano tomatoes
1 bunch dill, finely chopped
1 lemon, juiced
Bread crumbs
Grated Parmesan
Soak the dried beans overnight, then cook each type of bean separately in salted water with a bay leaf until just cooked. Keep covered in water while cooling. Once cooled, drain the beans but save the liquid and set it aside. Sweat the fennel and onion together in oil on medium heat until fragrant and translucent, then add garlic and sweat until fragrant. Add beans, salt and tomatoes, plus just enough bean liquid to cover the mixture. Cook on low until the mixture becomes homogenous and creamy, adding bean cooking liquid as necessary. Stir in dill and lemon juice, then cool. This mixture can be kept in a sealed container in the fridge for 3-5 days.
When you're ready to serve, spoon beans into a single-serving, seasoned cast iron pan. Coat the top with a mixture of bread crumbs and Parmesan cheese, then bake at 350°F until bubbly and brown on top.