3 Cocktails for Summer's End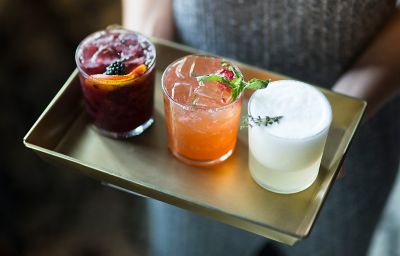 With a long weekend ahead, we're planning to toast the end of summer with a trio of cocktails from our friend Steve Wildy, Beverage Director for Vetri Family restaurants. We asked Steve to share his recommendations for three distinctive drinks: a classic cocktail for the traditionalist, an unconventional sip for those seeking something new, and a mocktail with lots of flavor. His cocktail picks, from a mocktail inspired by English gardens to a quirky Venetian digestif, are sure to be the stars of Labor Day Weekend. Read on for the recipes.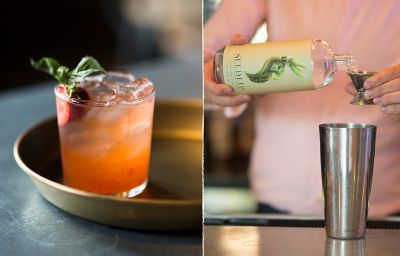 Stowe Spritz
2 oz. Seedlip Garden 108
3 strawberries, thinly sliced
Approximately 5 basil leaves
0.5 oz. simple syrup (maple syrup works great in this recipe, too!)
3 oz. craft tonic (Fever Tree, Q, etc.)
In an empty cocktail shaker, muddle strawberries and basil together with a splash of Seedlip. Add ice and top with Seedlip and simple syrup, then shake vigrously. Strain contents (removing strawberry and mint pulp) into a highball glass and top with tonic water. Garnish with your choice of freshly-picked garden herbs or flowers.
Steve says, "I named this cocktail after England's Stowe House, a home in Buckinghamshire that has celebrated gardens. It's a supremely refreshing and uniquely savory alcohol-free alternative to the late summer garden cocktail. Seedlip essentially delivers the intoxicating aromas and flavors of gin without the alcohol. The Garden 108 incorporates hay, sweet pea, and garden herbs, which provide an invigoratingly herbaceous backdrop to the pleasantly bitter snap of craft tonic. The addition of strawberries gives the drink a sweet finish. Apply a bartender's touch to create an elegant mocktail for your guests, or throw all the ingredients together in a pitcher for afternoon garden refreshments."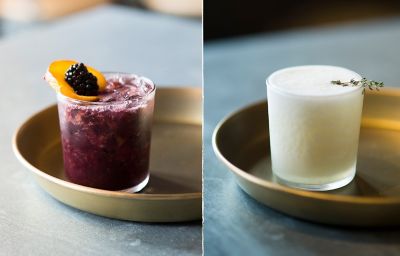 Blackberry Smash
(above at left)
1.5 oz. bourbon
3-4 mixed fresh berries
0.5 oz. simple syrup
0.5 oz. lemon juice
In an empty cocktail shaker, muddle the berries, simple syrup and lemon juice. Add bourbon and shake, then strain over crushed ice in an Old Fashioned glass. Garnish with fresh fruit.
Steve says, "The smash is about as classic as American cocktails get. A simple and hard-to-run-out-of triumvirate of bourbon, sugar, and lemon makes the base, which you can build from without ever losing the timeless feel of the original. This recipe is quick, easy, and adaptable to whatever is fresh in your garden or fridge, especially berries or stone fruits. (It's also the ideal outlet for any fruit that you've allowed to go a little past pristine condition.) If you're into canning any of your late summer crops, you can riff on this year round by replacing the fresh berries and simple syrup with two tablespoons of jam, then sweetening or acidifying to taste."
Sgroppino
(above at right)
1/3 cup sorbet (lemon is the classic, but peach, rasberry, and mango are all great)
1 oz. vodka
3 oz. prosecco
Combine a splash of prosecco and a splash of vodka in a bowl, along with half of the sorbet. Slowly fold in more prosecco with a whisk. Add the rest of the sorbet, prosecco and vodka, whisking slowly to integrate the ingredients until you reach a slushie-like texture. For a crowd, you can make 4-6 servings at once in a blender. Simply combine a pint of sorbet, 6 oz. of vodka, and 18 oz. of prosecco and blend at a low speed. Serve with a fresh herb garnish.
Steve says, "Traditionally served in Venice as an after-dinner pick-me-up, this quirky Italian refresher has yet to enter the everyday American drink vocabulary. It's a simple but unique blended concoction that's easy to make in large quantities, so it's a no-brainer for entertaining. While it's an extremely forgiving ratio, you may want to test an individual portion in a small, stainless steel mixing bowl to get a feel for your preferred texture and booziness. There's also plenty of room for customization with sorbet flavors, base alcohol (rum is a lovely alternative), and fresh herbs."
You May Also Like: