Winter Skin Rituals: Cleansing Charcoal with Morihata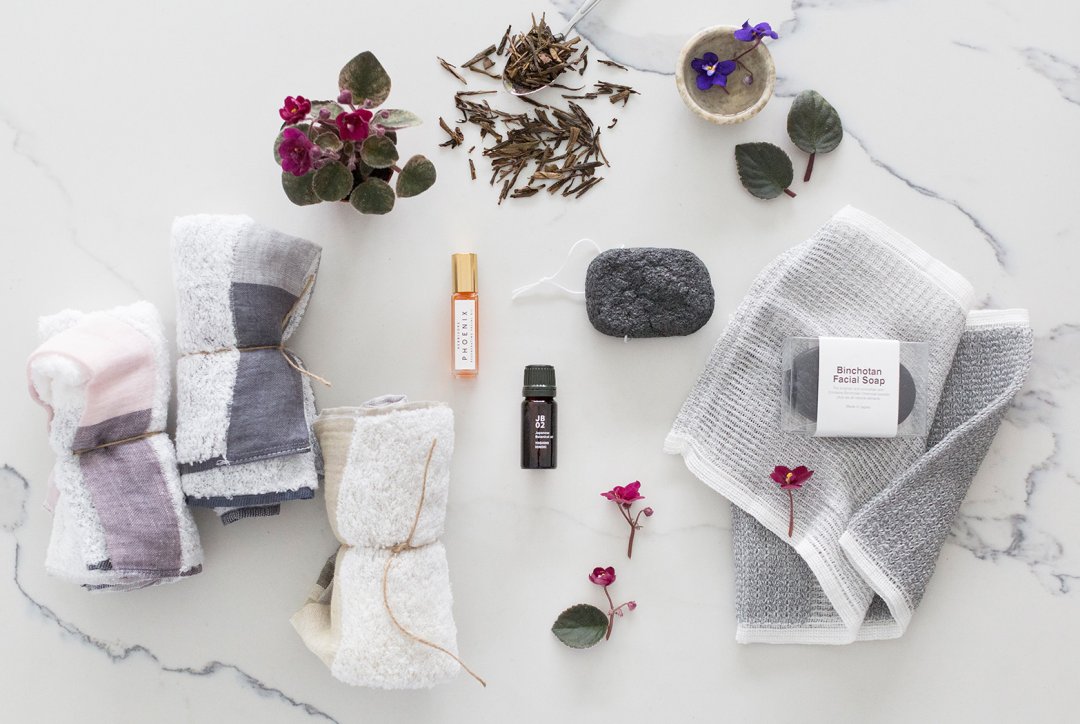 The winter months can be challenging when it comes to skincare, whether you're combating cold, dry air or the lingering effects of holiday indulgences. For a much-needed refresh to our beauty routine, we asked some of our favorite skincare experts to share winter skin rituals for a variety of seasonal challenges. First up, Magali Roman of Morihata and Rikumo, Philadelphia-based curators of thoughtful and beautiful goods from Japan. Below, she shares a simple, purifying routine featuring Binchotan charcoal, perfect for a mid-week refresh or post-holiday remedy.
Magali says, "Green tea, camellia oil, adzuki beans--ancient Japanese beauty routines have their fair share of unexpected natural ingredients. And yet no routine is complete without Binchotan charcoal, a fine Japanese activated charcoal with natural purifying properties. A secret essential for generations of Japanese households, Binchotan charcoal has been used for centuries to purify everything from tap water to damp basements. Morihata's Binchotan charcoal is made from activated Ubame oak, which contains millions of little cavities that naturally absorb and neutralize impurities. In beauty and wellness goods, the charcoal acts like a magnet, naturally attracting impurities from pores and deep-cleansing the skin from the inside out.
"Our Binchotan line follows a straightforward skincare regimen with four essential phases: exfoliation, cleansing, buffing, and moisturizing. It's a simple, concise routine for mid-week days when your skin needs refreshing but all you can think about is getting into bed as soon as possible. Best of all, charcoal is hypoallergenic and fragrance-free, so this routine won't keep you up with abrasive tingling or heady scents."
What You'll Need
Hinoki Essential Oil
Binchotan Charcoal Body Towel
Binchotan Charcoal Facial Soap
Japanese Face Towel
Binchotan Charcoal Facial Puff
Herbivore Phoenix Facial Oil
Hojicha Tea
Create the right environment for your ritual. In Japanese onsen, or bath houses, it's customary to take in the woodsy scent of hinoki, a treasured Japanese cypress. Hinoki is actually the official scent at our Rikumo store because it's very soothing for the mind. We love to diffuse a few drops of hinoki essential oil when beginning this routine--its bracing forest scent will relax the body and relieve stress while you cleanse and exfoliate.
1. Exfoliate using the Binchotan Charcoal Body Towel. Since some scrubs can be too abrasive for sensitive skin, this gentle scrubbing towel tackles the first layer of grime and dead skin cells. It works best if you wet the towel, and gently rub it over dry skin in a circular motion. The towel is infused with Binchotan charcoal, but you won't find any embedded charcoal bits. Instead, we introduce charcoal as a key material directly into the fabric, transforming it into a super absorbent, quick-drying performance fabric. Charcoal's absorbent properties also prevent the towel from developing mildew or odors, so you can use it in the shower or around the house as you like.
2. Cleanse with Binchotan Charcoal Facial Soap. Milled with charcoal to absorb dirt and grime directly from your pores, this cleansing bar is great for keeping breakouts at bay. It works long-term to reduce the effects of acne, so you start seeing a real difference in your skin with repeated use. I like to use it every night after exfoliating--it's hypoallergenic and quicker than a face mask. It also smells really good!
Interlude: Pat dry with a Japanese Face Towel. After cleansing, pat (don't rub!) your face with the softest towel you can find. You can irritate the skin when you drag a towel over your face, so patting is essential, especially if you want to prevent wrinkles. Japanese towels are known as the most absorbent towels in the world, so they dry your face in seconds with just a few pats. It's important to invest in a towel that treats your skin gently, and this one feels like a cloud. Don't use the same towel you use to dry your hair, as you don't want to risk fragrances from your shampoo.
3. Buff with the Binchotan Charcoal Facial Puff. While exfoliation gets rid of grime, buffing smooths your complexion to reveal clear, luminous skin. The facial puff is my personal favorite--it's really fun to use and you can feel the difference straight away. The trick is to wet the puff thoroughly until it's squishy, then rub it on dry skin in small, circular motions. Because it's an all-natural sponge, the material will wear out after 3 months, but you can prolong its lifespan by hanging it to dry in the sun away from humidity.
4. Moisturize with Herbivore Phoenix Facial Oil. The one thing charcoal isn't very good at is moisturizing, since its job is to absorb moisture. For this final step in our routine, we like to use Hervibore's Phoenix Facial Oil, which is all-natural and contains rosehip seed to treat blemishes. It also contains neroli oil to stimulate growth in skin cells while you sleep. We like to apply it with a little facial massage to relax the face before going to bed--the scent helps too!
Prepare for a good night's sleep. After so much scrubbing and massaging, the best thing you can do to ensure a good night's sleep is to signal your body that it's time for bed. Our trick is to brew a cup of hojicha, a delicious Japanese roasted green tea. Morihata Hojicha is 100% organic and has a calming taste similar to Earl Grey. Most importantly, it's caffeine-free, so it won't keep you up in the night.