A Citronella Chandelier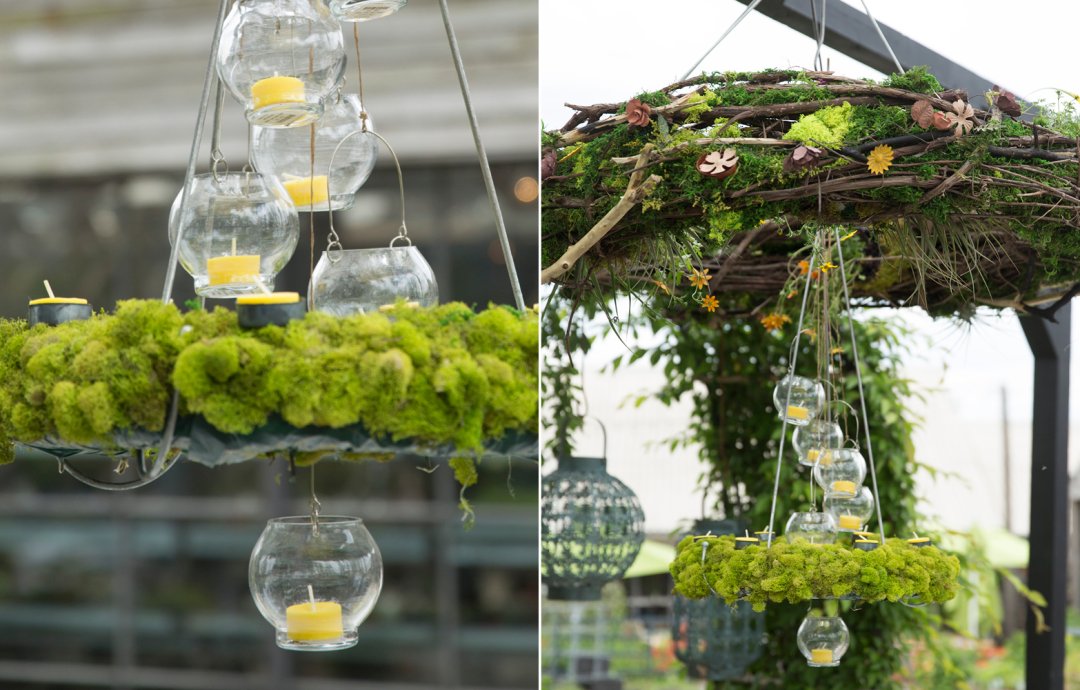 A remarkable centerpiece for summer's night gatherings, the layered chandelier above is filled with citronella tea lights. Practical and pretty, it keeps bugs at bay while casting a soft glow over the garden. Designer Beth C. created this tiered chandelier using a pair of our versatile Garden Chandelier Hooks, along with two of our classic wreaths and a variety of seasonal adornments-- from fresh flowers to simple glass votives. Beth shares how you can get the look, below.
What You'll Need
4-foot grapevine wreath (available in stores)
2 Garden Chandelier Hooks
Small Steel Shepherd's Hook
Preserved Reindeer Moss Wreath
2 Pressed Metal Flower Garlands
2 bunches preserved stoebe
Variety of small, potted annuals (Beth chose a yellow theme to accent the candles)
Variety of air plants
7-9 Hanging Votive Holders
6 Stake Tea Light Holders
Citronella Tea Lights
Fresh cut branches, bark removed (Beth used magnolia)
Preserved Reindeer Moss
Air Plant Mounting Glue
Screw hook
Floral wire
Natural Jute Garden Twine
Build
Start by attaching the screw hook to the ceiling, then hang the Garden Chandelier Hook. You can adjust the height of the chandelier by adding a shepherd's hook as needed. Place the grapevine wreath in the chandelier hook, then use the small shepherd's hook to hang the second chandelier hook from the center ring of the first. Place the reindeer moss wreath in the second chandelier.
Decorate
Remove the bark from your fresh cut branches, then tuck them into the grapevine wreath to lighten its tone and add visual interest. Tuck in the preserved moss for a lusher appearance. Cover the pots of your small annuals with moss, adhering with hot glue or air plant mounting glue. Tuck the moss-covered pots into the grapevine wreath and secure with garden wire. Accent the grapevine wreath with the Pressed Metal Flower Garlands, preserved stoebe, and air plants.
Suspend a cluster of votives from the center ring of the lower chandelier hook using jute twine. Cut the twine to varying lengths to achieve a staggered appearance. Fill each votive with a citronella tea light, removing the silver cup so the candle color is visible. Insert tea light stakes evenly around the moss wreath, then place citronella tea lights inside.