Christmas Tree Specimen Guide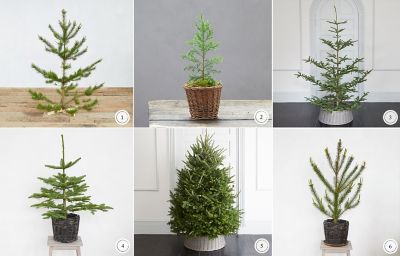 Choosing a Christmas tree is one of our most anticipated holiday traditions. Every year, we look forward to finding the perfect evergreen to trim, marking the start of the holiday season. Whether you're trekking to one of our stores to pick out your pine or having one delivered right to your door, deciding on the perfect tree for your family is part of the season's festivities! We've put together a specimen guide so you can learn more about the most popular varieties of trees.

1. Lodgepole Pine: Commonly spotted in western North America, the lodgepole pine gains its sculptural appearance from tufted needle growth. With excellent needle retention, a classic pine scent, and upward-pointing branches, it's the perfect tree to display your most treasured ornaments.
2. Tabletop evergreen sapling: Ideal for holiday gifting, this fresh evergreen sapling arrives ready to display in a woven pot.
3. Natural Noble Fir: Found only at terrain, the natural noble fir is our signature Christmas tree. Native to northern California and the Pacific Northwest, the noble fir is remarkable thanks to its wild, open-growth shape. Dark green needles with excellent retention extend from stiff, strong branches for displaying an abundance of ornaments. Our natural noble firs are sustainably wild-harvested from the Oregon forest.
4. Tabletop Fraser Fir: See number 5.
5. Fraser Fir: An iconic evergreen for Christmas, the Fraser fir is native to high elevations in the Southern Appalachian Mountains. Strong, upward-growing branches and a conical shape make it ideal for displaying heirloom ornaments, while great needle retention and a fresh fragrance make it a welcome addition to the holiday home.
6. Tabletop Lodgepole Pine: See number 1.

Visit our Winter Shop or stop by one of our stores to choose your Christmas tree today!