Chocolate + Cheese Pairings with Éclat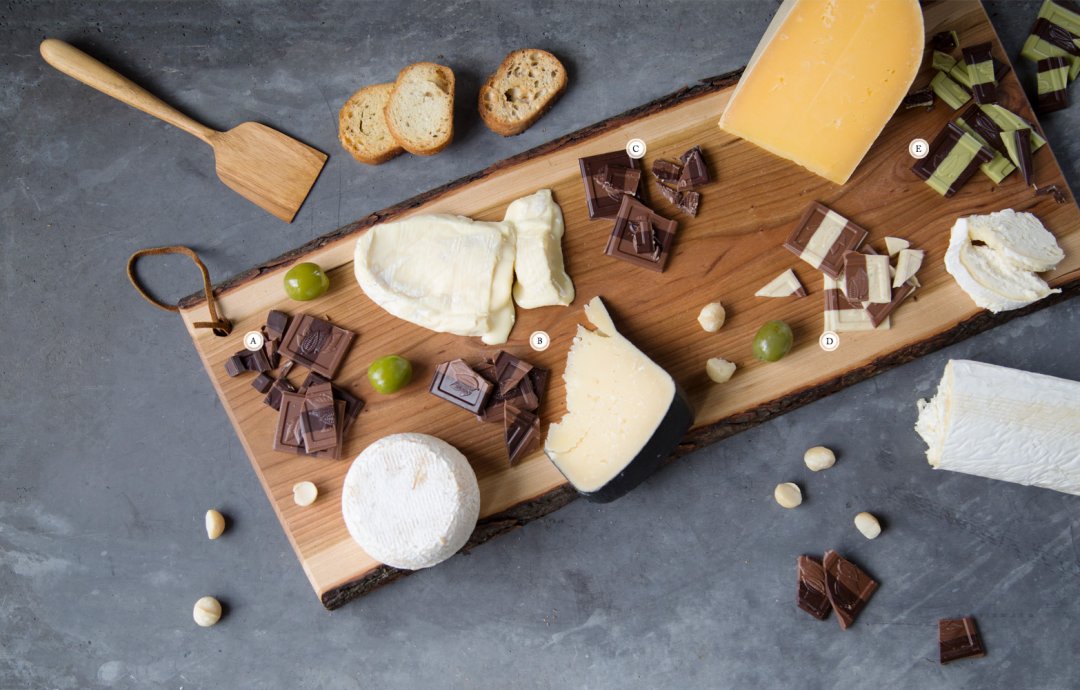 Made by hand in West Chester, PA, Éclat Chocolate is a standout in our sweet shop this Valentine's Day. Each creation from Master Chocolatier Christopher Curtin is crafted with the finest-quality chocolate and innovative flavors -- like the unexpected combinations of their "parallel" bars, which pair chocolate with savory accents like Porcini & Thyme or Coffee & Cardamom. These sophisticated sweets got us thinking about a new way to enjoy chocolate: as the companion to cheese on a dessert-worthy board. Éclat teamed up with our friends from The Farm at Doe Run to match their parallel bars with Doe Run's award-winning cheeses, creating the perfect snack to share with your sweetheart this Valentine's Day.
A. Coffee & Cardamom Chocolate + Blow Horn Cheese: The strong body and salty flavor of Blow Horn really stands up to this chocolate's bold coffee flavor, and allows for a lingering finish of cardamom. This pairing shines a new light on how sweet and delicate cardamom can taste when paired with a bold, salty cheese.
B. Allspice & Sesame Seed Chocolate + Hummingbird Cheese: The funky, just-ripened Hummingbird is beautifully mellowed by this pairing. Its pungency brings out the essence of the sweet and flavorful allspice, while the sesame provides hints of nuttiness plus a smooth, buttery finish.
C. Zuta & Orange Chocolate + Creamery Collection #11 Cheese: This playful pairing takes a triple milk, Spanish-style cheese and pairs it with the bright and bold flavors of zuta (an Israeli mint) and orange. The minty zuta and bright citrus moderate the goat's milk flavor and piquant manner of the cheese, so the chocolate can take center stage.
D. Porcini & Thyme Chocolate + St. Malachi Cheese: Suggested by Doe Run cheesemaker Sam Kennedy, this pairing balances the chocolate's earthy mushroom flavors with sweet pineapple notes from an 8-month-old batch of St. Malachi. The cheese's rich, lingering flavors pave the way for the chocolate's creamy texture to stand out, creating the perfect showcase for a classic flavor pairing: thyme and Alpine-style cheese.
E. Green Tea & Roasted Rice Chocolate + Dragonfly Cheese: A favorite pairing -- the rich creaminess of Dragonfly cheese coats your mouth and tones down the bold, earthy flavors of green tea. This combination will have you dreaming of green tea ice cream!