Summer Cherries Two Ways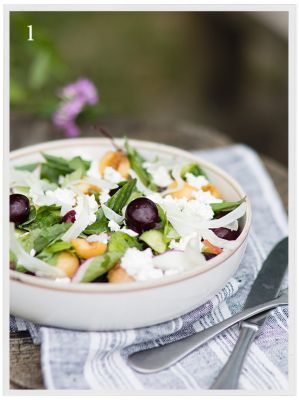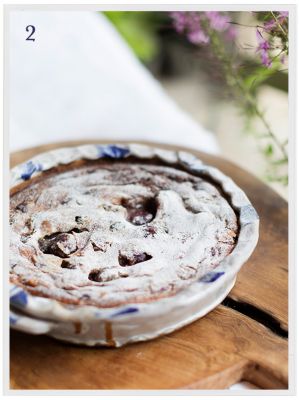 There's nothing we love better in the summer than sampling the fresh produce - juicy peaches, ripe tomatoes, sweet corn - and cherries by the pintful, of course. And while we have no problem snacking on the summer stone fruits on their own, they're also delicious in sweet and savory dishes alike. We asked our chef at Styer's, Ryan Bloome, for two simple ways to incorporate fresh cherries into our seasonal summer dishes. Read on for a completely customizable salad recipe and a cherry clafoutis dish that makes it worth turning on the oven.

Cherry and Radish Salad

For the salad, Ryan is all about using what's fresh, seasonal, and local. Here, he gives us the basic building blocks of a well rounded salad - and encourages everyone to make it their own.

"I grow radishes and lettuces in my garden as well as lots of herbs. This year I had some awesome little tender butter lettuces, lacinato kale, and radish greens and I picked mint, parsley, and basil to add. I wanted something to contrast the sweet and sour of the cherry which I think radishes do perfectly. Radishes from the garden or farmers market have an intensity that you don't get from most store bought ones. Dressed with just a good olive oil and a little bit of a mild vinegar like apple cider or white wine. We finished it with some shaved fennel and feta cheese to round it out a little bit.

The basic idea is to pair a seasonal acidic fruit with something peppery (radishes), something crunchy (the lettuce and the fennel), and something creamy or rich (the feta). Those ingredients can change throughout the summer to things that are in season. Soft herbs like mint, parsley and basil are great additions to any salad as well!"


Cherry Almond Clafoutis

A clafoutis is basically a crepe or pancake batter that you mix in a blender to incorporate air and pour over the cherries in the baking pan. It's one of my favorite things ever and possibly the best way to eat summer cherries!

4 large eggs
½ cup sugar
½ teaspoon salt
1 cup milk
1 tablespoon vanilla extract
½ tablespoon amaretto
Zest one lemon
2 tablespoons melted butter
3/4 cups all purpose flour
¼ almond slivered almonds
2 cups fresh cherries, pitted

Butter and flour a heavy round 9 inch baking dish or cast iron pan and preheat oven to 350°F. In a blender, mix milk, sugar, salt, eggs, and flour. Blend until combined and add melted butter and amaretto. Blend again for about 10 seconds. Add the almonds to the batter and stir to incorporate.

Put a small amount of your batter in the bottom of the baking pan, arrange cherries in the batter and then cover with the rest of the batter, which should come about three quarters of the way up the pan. Bake in the oven until golden brown and puffed up in the middle, about 45 minutes but maybe a little longer depending on your oven. Allow to cool slightly before serving.
Time to visit the local farmer's market! Or, if you'd rather have someone else do the cooking, make a reservation at one of our cafés for brunch!
You May Also Like: