Now Open: Century City + Bethesda
This fall has been our busiest season yet. With the arrival of our first book and three new stores, we're thrilled to have these opportunities to share our vision with even more of you! After the Devon opening in August, we set our sights on finishing up our stores in Century City, California and Bethesda, Maryland and we're happy to say they're both open for you to explore. Below, we've shared a few snapshots of each - we can't wait for you to see them in person!
Our Bethesda cafe combines modern, clean lines with rustic touches like copper pendant lights and aged metal stems to create a welcoming, bright atmosphere. Take a seat at the bar for a glass of wine or a honey tea au lait to fuel up after shopping.
A welcoming entry is a key component of all of our stores (just as it is in your homes!). For fall, we love piling wagons high with seasonal succulents, pumpkins, and flowers for major impact.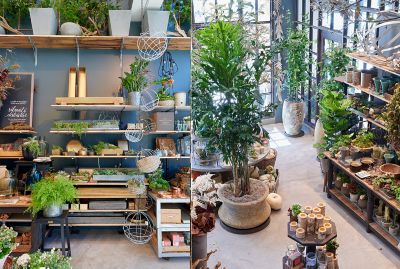 In Century City, we've interspersed potted plants with the hard-working functional everyday items you need to keep your gardens growing, both indoors and out.

Terrain at Century City is located at 10250 Santa Monica Blvd., Los Angeles, CA 90067
And in Bethesda, you can find Terrain at 4801 Bethesda Ave., Bethesda, MD 20814
Or click here to find out where all our stores are located!