Campfire Crisp with Sweeter Off the Vine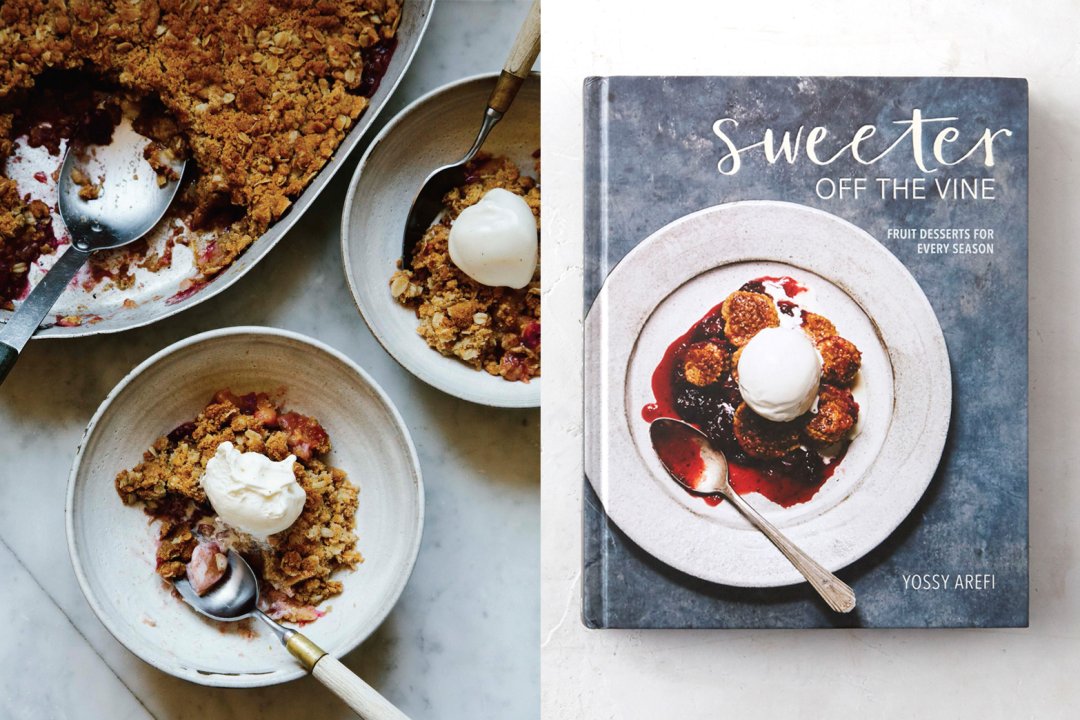 As we head to the orchard this fall, we're taking along a copy of Yossy Arefi's Sweeter Off the Vine. Filled with heirloom-quality recipes that spotlight fruit throughout the year, this new collection is inspiring us to bake with the best of the season's harvest. We caught up with Yossy – who you might know from the beautiful blog Apt. 2B Baking Co. – to talk about fall fruit and get the recipe for a cozy crisp that can be baked over the campfire.
terrain: What inspired you to create a collection of fruit dessert recipes?

Yossy: I'm the type of person who never likes to cook the same thing twice, so eating seasonally comes pretty naturally to me – that includes dessert! Fruit lends itself to so many different and delicious preparations that I never get bored making fruit desserts. They are also incredibly beautiful and fun to photograph!
terrain: How do you go about creating a new recipe?

Yossy: It's a little different every time, but I usually start with what looks best at the market. I was lucky to write Sweeter off the Vine "in season," so I didn't have to find perfect strawberries in January, thank goodness! I also have a little notebook where I write down flavors I'd like to pair together, or restaurant dishes that really stick with me. When it comes time to start something new, I usually flip through that book,
terrain: What are your favorite fruits for this time of year? Since Campfire Crisp highlights the fall apple crop, do you have any favorite apple varieties for fall baking?

Yossy: Concord grapes, pears, apples, quince, and squash are my fall favorites. I love very crisp, tart apples for baking – Ginger Gold, Golden Russet, Mutsus, and gorgeous pink-fleshed Pink Pearl apples top my list. This time of year, ask your local farmers for the new crop apples. They'll be the freshest and most tasty!
terrain: Can you tell us a bit about the Campfire Crisp recipe? Any tips for baking it over the campfire, if desired?

Yossy: Campfire Crisp is my take on the classic apple crisp, with the addition of sweet-tart Italian Plums and a handful of Concord Grapes. The topping uses a bit of whole wheat flour, which adds a nice toasty flavor to the comforting, gently spiced fruit. You can totally bake it over a campfire in a Dutch oven with a lid! Put it towards the outside of the fire, not directly in the flames, and carefully place a few coals on the lid to help brown the top. Rotate the pot (with sturdy heatproof gloves!) a couple of times throughout the cooking process and watch closely so it doesn't burn.
terrain: Are there other recipes in the book that would be good to enjoy around the fire?

Yossy: The Butternut Squash Tea Cake would be the perfect snack for cozying up beside the fire with a mug of something warm.
Campfire Crisp
Makes one 9 by 13-inch crisp
Filling
2 1/2 pounds (1125g) firm baking apples
1 pound (450g) Italian plums
1 heaping cup (170g) Concord grapes
1 vanilla bean, or 2 teaspoons vanilla extract
1 teaspoon orange zest
1 teaspoon lemon zest
1/3 cup (65g) granulated sugar
1/4 cup (32g) all purpose flour
1 teaspoon ground cinnamon
Pinch salt
Crisp Topping
Makes about 3 1/2 cups, enough for one large crisp or two pies
1 cup (125g) all purpose flour
1/2 cup (45g) old-fashioned oats
1/2 cup (100g) firmly packed light brown sugar
1/2 teaspoon salt
1/4 teaspoon baking powder
1/2 cup (115g) unsalted butter, softened but cool
Combine all of the crisp topping ingredients except for the butter in a medium bowl and give a quick stir to combine, making sure to break up any lumps of brown sugar. Add the butter and use your fingertips to mix everything together until crumbs form. Use the mixture immediately, or store in a ziptop bag in the freezer for up to one month. You can use the crisp topping straight from the freezer; just add a couple of extra minutes to the baking time of your crisp or pie.
Position a rack in the center of the oven and preheat to 375°F. Use the tip of a knife to slice the vanilla bean in half lengthwise and scrape out the seeds; reserve the pod for another use. In a large bowl, rub the vanilla seeds, organic zest, and lemon zest into the sugar with your fingertips. Stir in the flour, cinnamon, and salt.
Peel, core, and chop the apples into 1/2-inch pieces. Pit the plums and chop them into similar-size pieces. Seed the grapes by slicing them in half and pushing the seeds out with your fingertips. Add the fruit to the bowl with the sugar mixture and toss gently to combine.
Pour the fruit and all of its juices into a 9 by 13-inch or 3 quart baking dish. Scatter the crisp topping evenly over the fruit. Bake until the fruit is bubbling and the topping is golden brown, 30 to 40 minutes. Serve warm with ice cream or whipped cream if desired.
Reprinted with permission from Sweeter Off the Vine, by Yossy Arefi, copyright © 2016, published by Ten Speed Press, an imprint of Penguin Random House LLC. Photographs copyright © 2016 by Yossy Arefi