Fall Favorites from the Garden Cafe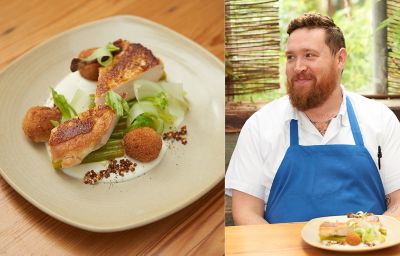 Fall brings a bounty of ingredients to the table, and our cafes are taking full advantage with new, seasonal menus. Colorful root vegetables and hearty preparations make the most of the autumn harvest, combining for a menu of savory, satisfying dishes. We recently caught up with the chefs at Styer's and Westport to chat about their fall favorites. Read on for their picks, plus a recipe from each chef.
Ryan Bloome, Styer's Executive Chef
"As fall gets underway, I'm cooking with pumpkins and squash, root vegetables, brassicas, and hearty greens. This is a season when more time is put into the preparation of ingredients. In summer, we keep a lot of items as raw as possible. When fall begins, we get to roast, braise, confit, cure, puree, etc. I love the flavors of summer vegetables, but the kitchen always smells way better in fall because of these ingredients and cooking methods! I'm also cooking hearty meat dishes like beef short ribs, braised chicken, confit pork belly and roasted pork chops, with lots of spices and apple cider.
"The change of seasons is a lot of fun for all of us in the kitchen, and we're constantly discussing ways to use newly-arrived ingredients. My favorite thing to do with a dish is repeat an item in several ways on one plate. For example, we just introduced a chicken breast with celery root purée, braised celery and raw celery salad, plus chicken croquettes with mustard and sprouted mustard seed. So, you get two variations on chicken, two on mustard, and three on celery! I'm most excited for people to try the chicken croquettes, so they'll be available as an appetizer, too."
Chicken Croquettes
1 lb. pulled chicken (roasted or braised)
1 lb. potatoes (boiled in the skins, peeled, and put through a ricer)
3 oz. grainy mustard
4 oz. shredded sharp cheese (we use St. Malachi)
2 oz. chopped fresh chive
1 oz. chopped fresh rosemary
1 small shallot
2 cloves garlic
Big pinch of salt
4 oz. all-purpose flour
4 oz. eggs, beaten
2 oz. heavy cream
4 oz. bread crumbs
Start by putting the shallot and garlic in a small sauce pot and covering with canola oil, then cook over very low heat for 1-1.5 hours. Simmer potatoes in water until cooked, then cool and use a paring knife to peel away the skin. Chop the peeled potatoes and mash or put through a ricer until all lumps are removed. Braise and pull the chicken (you can use chicken thighs or leftover roasted chicken, if you have some on hand).
Make a breading station with separate, shallow pans holding all-purpose flour, a mixture of the eggs and cream, and bread crumbs. Combine all other ingredients and form into 1-1.5 oz. patties. Coat fully with flour, then dip into the egg mixture, then bread crumbs.
In a heavy, steep-sided frying pan, heat 3-4" of canola oil to 350 degrees. Lower the patties into the oil with a spatula or spoon. If the oil does not fully cover the patties, flip after about 1 minute. Fry for a total of 2-3 minutes. Rest on a paper towel and season with salt and pepper, then serve with mustard.
Jessica Bengston, Westport Executive Chef
"Fall is honestly my favorite time of year. When I get my first delivery of squashes, grapes, or root vegetables, I get an adrenaline rush. Connecticut is incredibly bountiful this time of year, and I love all the figs, beets, squashes, sweet potatoes, pears, and apples! My style of cooking has always been minimalistic; I don't like to add too many layers on a dish because I believe the ingredients should be the star of the show. If you're sourcing seasonal, local produce, it should be allowed to stand out.
"I'm looking forward to a lot of the new arrivals on our fall menu, including a halibut with escarole and basil oil, and autumnal desserts from our pastry chef, Marina White. But the dish I'm most excited about is a beet terrine, with layers of golden and red beets, whipped goat cheese, and pistachios."
Beet Terrine
4 purple beets
4 golden beets
4 Tablespoons chopped mixed herbs
2 garlic cloves, finely grated
14 oz. goat cheese
1 cup heavy cream
Sea salt and black pepper
1 cup chopped pistachios
Line a 4 x 8-inch loaf tin with parchment paper, leaving enough paper hanging over to easily cover the terrine when the tin is full. Scrub the beets, then place them in a lidded pot, fully covered by water. Cook for around 30-40 minutes, until tender. Set aside to cool, then peel.
Meanwhile, use a stand mixer to combine the herbs, garlic, goat cheese and heavy cream. Whip until fluffy and season with salt and pepper to taste.
Slice the cooked beets in varying thicknesses from 1⁄8 -1⁄4". Start with a layer of golden or candy-colored beets at the bottom of the tin, followed by a thin layer of the cheese mixture. Create 6 layers like this, followed by 6 layers using the purple beets, until you reach the top of the tin. Feel free to experiment with layering patterns or other beet colors.
Cover the terrine with parchment paper, then place a weight on the top of the tin. Store in the fridge for at least 8 hours -- overnight is best -- until set. Once set, place a plate over the tin and turn upside down to remove. Unwrap parchment, slice, and serve.