July at Bowman's Hill Wildflower Preserve
On a recent, muggy morning, we took a field trip to New Hope, PA to visit Bowman's Hill Wildflower Preserve. At the height of summer, the Preserve is filled with native blooms, shady trees, buzzing bees, and vibrant butterflies. Founded in 1934, many elements of Bowman's Hill are maintained by volunteers like our guide for the day, Jean Barrell, who shared some midsummer highlights around the Preserve.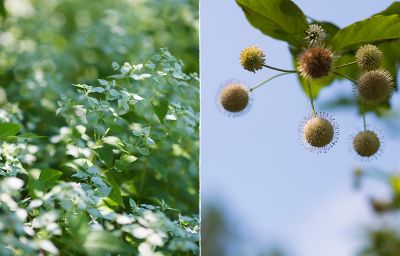 The land that makes up Bowman's Hill today was originally earmarked by the state of Pennsylvania as a camping and picnic ground to serve Washington Crossing Historic Park, a popular nearby landmark. However, a wide variety of native plants was discovered on the site and it was set aside as a wildflower preserve instead. The original goal was to grow all of Pennsylvania's 2,000 native plant species on the Preserve; however, variations in soil and climate across the state make that impossible. Today, an impressive 700 species of native plants can be found at Bowman's Hill, with more being added all the time. The 134 acres that make up the Preserve are accredited as a museum -- it's the first botanical garden to receive accreditation, with the plants making up the museum "collection."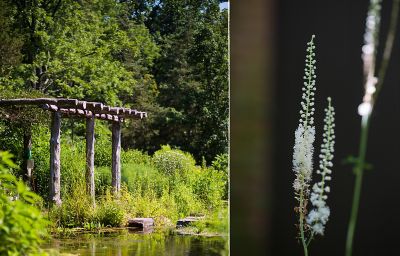 Jean says, "Our mission at the Preserve is to educate the public about the importance of native plants." When we visited, the impact of native wildflowers was abundantly clear. Key pollinators, from Monarch and sulphur butterflies to native bees, could be seen buzzing between the blossoms of monarda, echinacea, and buttonbush. The Preserve also serves as a showcase for the striking diversity of Pennsylvania's native plants. In the meadow, towering Joe Pye weed thrives alongside lacy yarrow, deep purple ironweed, and dainty mountain mint. A grove of pawpaw trees will produce their large, seemingly tropical fruits in late summer, while broad-leafed umbrella magnolias provide a green canopy to block the midsummer sun. Even the most unexpected spaces are full of life -- a bog garden greets you just outside the visitor's center, and a barren patch of woodland has been transformed into a landscape of soft moss.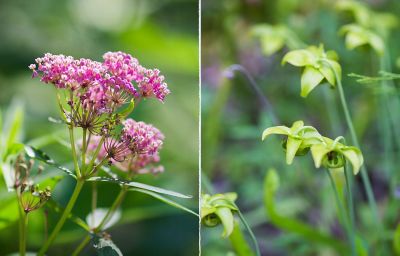 In the coming weeks, the meadow at Bowman's Hill will be in full bloom with summer wildflowers; guided tours are available Tuesday-Sunday at 2PM. You can also take home native plants for your own garden from their nursery. Click here to plan your visit.