Botanical Dyeing with Honest Alchemy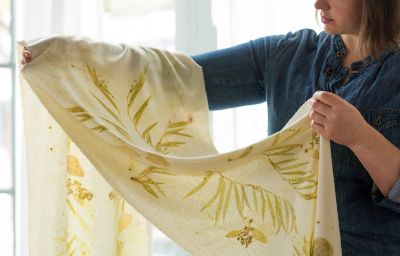 In the Philadelphia neighborhood of Germantown, artist Elizabeth McTear of Honest Alchemy designs and hand-dyes striking textiles using completely natural, plant-based pigments. Her home studio also includes a bountiful dye garden, where she grows flowers and foliage to use in her work. This fall, she designed a collection of eco-printed linens especially for terrain, and we can't wait to use her raw silk runners on our Thanksgiving table! Recently, Elizabeth visited our offices to unwrap a few newly-made runners. We all loved seeing these one-of-a-kind pieces come to life, and learning more about the dyeing process from the artist. Read on for our conversation, and to find out how you can shop a special trunkshow from Honest Alchemy this holiday season.
terrain: What sparked your interest in natural dyeing?
Elizabeth: I earned my bachelor's in Textile Design from Moore College of Art & Design. During that time, we learned using synthetic dyes. After graduation, I became more aware of the toll that the textile industry has on the global environment. I decided that I had to forge a new path for my practice, which would allow me to continue creating while having a more positive impact. I turned to natural dyeing as a way to align my studio practice more closely with my morals and ethics.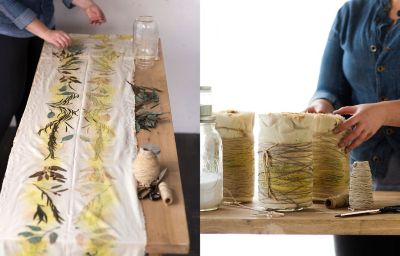 terrain: You've planted a garden to test out new, plant-based pigments. What's growing as fall comes to a close?

Elizabeth: I use the dye garden as a way to try out botanicals for dyeing, which I can then buy in larger quantities from natural, reputable growers. Currently, the garden is seeing the last of the Hopi black sunflowers, marigolds, and waning, post-harvest indigo. I'm also growing madder, which will take 2 - 3 years to mature before I can selectively harvest its roots. The woad is also holding on, and should come back next year even stronger. Cosmos, coreopsis, black-eyed Susan, Hopi red amaranth, bronze fennel, and purple basil have finished growing for the year. I'm aiming to adjust my crops and refine the selection for next year's garden.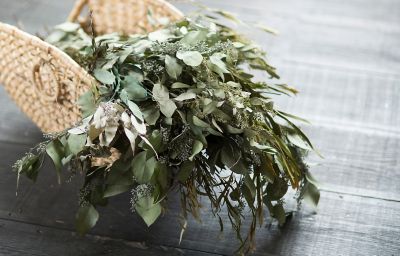 terrain: What botanicals do you enjoy working with the most?

Elizabeth: I really enjoy using indigo, logwood, madder root, weld, myrobalan, and quebracho rojo. I started out dyeing with indigo, which is a very unique dye that you can continue to learn about forever. For eco-printed pieces, I love utilizing various species of eucalyptus. For hapa zome (hammering flowers into fabric), I find that purple oxalis and bracken ferns make the best marks. What's great about all botanical dyes is that I can safely dispose of them or compost the remains for the garden.
terrain: Can you give us a brief overview of the dyeing process?

Elizabeth: Good dye work depends on good chemistry and patience. You need to know why you do something, as well as how to do it. The why allows you to correct for things, like a shift in pH or an unexpected dye reaction. It allows you to repeatedly hit your goals with confidence.
When making a new piece, I start by scouring the fabric. For home goods and linens, I work primarily with raw silk; I love its luxurious feel. Scouring is the process of cleaning the fabric beyond a usual wash. It removes pectic substances, dirt, grease, or anything that could inhibit the dyes from properly attaching to the fabric. Even brand-new or freshly-laundered fabrics will often require scouring. Next, for any dye except indigo, the fabric is treated with a mordant. Mordants are treatments, usually made of minerals, that help the dye permanently fix to the fabrics. Once mordanted, the fabric can then be dyed in various ways: submerged, printed, painted, or tied and pressed into various shibori configurations. The textiles I'm making for terrain start with an arrangement of botanical cuttings. The fabric is folded over the cuttings, then wrapped around a glass jar and steamed for several hours to transfer the colors of the plants to the fabric.
terrain: What are you looking forward to in the coming months?

Elizabeth: My practice has been growing, so several months from now I'll be expanding into a storefront studio in a repurposed firehouse in Germantown. The studio expansion will allow me to further develop my natural dye work; I'll also be able to print and dye small runs of yardage more efficiently. Having a street-level, commercial space will let me offer a regular schedule of dyeing workshops to the public, too. I'm also looking forward to teaching at the Sweet Paul Makerie in April, and am working on other creative retreats to help people learn about natural dyes and how they can make them a part of their own lives.
Meet Elizabeth and shop an expanded collection of Honest Alchemy textiles at our Holiday Open House on November 19 in Glen Mills, PA.