In The Studio With: Bergs Potter
With a mantra like "the flowers of tomorrow are in the seeds of today," it's no surprise that Bergs Potter is one of our favorite brands -- that promising spirit is at the heart of gardening, after all. From the playful scallop-edged Copenhagen pots to the classic banded Galestro collection, the brand's products are well-designed, durable, and time-tested.
In fact, the Danish pottery dates back to 1942 when Victor Berg inherited a ceramics shop in Copenhagen. In an effort to bring happiness to the Dutch people during the uncertain times of World War II, Berg began selling fresh flowers to accompany the clay pots and the unique mix of bright flowers and aged pots became an instant hit among locals.

And while Bergs has only grown in popularity, the brand remains true to its roots, with each pot handmade from clay sourced from Tuscany. Which means that there are only a handful of spots in the US you can even buy the brand and we count ourselves lucky that terrain is among those few!

Once a beloved family friend and now co-owner of the business, Martin Olinger is our go-to source for all things Bergs. We caught up with him recently to chat about the company's charming history, what makes Bergs so special, and why your clay pot should change colors.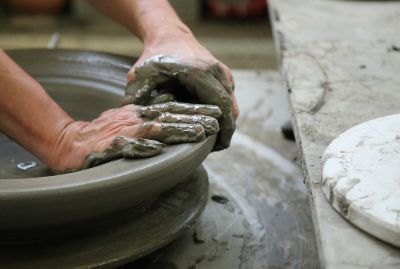 terrain: What makes Bergs clay particularly beneficial to plant growth?
Martin: The clay used for Bergs is certified Italian clay -- Italy's most exclusive and durable clay. It has a very high density which means it's frost resistant. We also never add chemicals to seal the surface. A pot can be tested by putting it in water. If it changes color – it breathes. This means it's able to supply moisture and air the roots, giving it the best possible conditions for growth.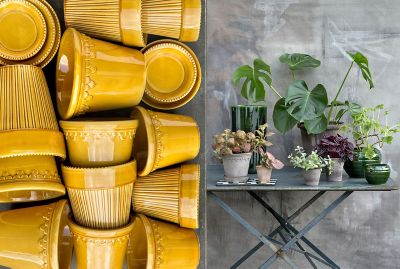 terrain: can you tell us how you choose the colors for your pottery collections?
Martin: We use the Nordic gray clay color as our main color, but stay true to the classic terracotta color as well. Since 2016 we have experimented with glazes and found our first color inspiration from the old green gates, ornate houses and blue sea in the historic Danish fishing village of Dragoer.
terrain: How do you think Copenhagen and Danish style influences Bergs design?
Martin: Bergs Pottery goes as far back as 1860 in Denmark when royal potters made the Copenhagen pot for Danish castles. Our minimalistic pots in gray signal the Nordic vibe, but since the Danes also like a little fairytale romance, the more decorated pots are popular as well.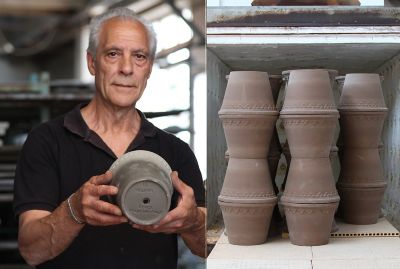 terrain: Can you walk us through the process of making a Bergs pot?
Martin: Our clay pots are produced in one of two ways. Some potters make their pots by turning it on the pottery wheel while others stamp and hand-cut the clay into the desired shapes. Drying the clay can take from one day to one week depending on the type of clay used. Once the clay is dry, it's fired at approximately 1000°C (1830°F). The high temperature strengthens the pots and adds to their beauty. Afterwards, the pots are dipped in water to seal out salt water. The pots are packed carefully into trucks and transported from Tuscany to our warehouse in the North of Sealand. After their journey, our warehouse manager René unpacks the pots and they remain in the warehouse until they are transported to shops or to their new homes.
Martin told us they only use eight potters from a small, family-run Tuscan studio to create their pots - nothing like always keeping it in the family! And if Martin has you interested in a Bergs pot of your own, check out our collection here!
All photos courtesy of Bergs Potter