Flight Academy ¿ Beer Flights 101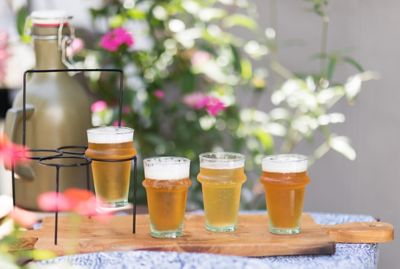 When it comes to party-ready beverages, we've happily entered into an era of beer - it seems like every other weekend there's a new brewery opening with some exotic offering we just have to try. This abundance of exciting beer also got us thinking - how fun would it be to host a beer flight tasting at home - so we can try even more options with friends? We tapped terrain beverage director Steve Wildy to give us a tutorial on how to set up your own beer flight tasting events, "curated with deliciousness in mind - and plenty of opportunities to learn a little something along the way."

Steve's general tips + tricks for assembling a flight

1. Stay within your comfort zone: "Beer is one of the most versatile beverages available with an array of styles that can be dizzying to the non-geek. Even categories which seem extremely narrow on the surface can provide limitless potential for variations on a theme, so don't feel like you have try something you're entirely unfamiliar with - unless you and your guests are extra adventurous, in which case, go crazy!"

2. Don't take it too seriously: "A lot of what you're working with is brewed by self-proclaimed iconoclasts and renegades who pride themselves on bucking the norms, so if you enjoy winging it, you're in good company."

3. Know your audience: "Keep your guests' preferences in mind. If you have a crowd that enjoys to be challenged, you can go sour, strong, dark, and weird all day long, but likely for most groups you'll want to stay within a certain bandwidth to ensure that everybody finds something they really enjoy."
Flight 1: Flora Study, Hops
Hops, the flowering cone of the prolific climbing vine of the same name, are at once the most lauded and most polarizing ingredient in beer. The following flight provides a range of intensity that provides a platform for understanding hop varietal flavor and aroma (different breeds give different character), trademark bitterness, and how alcohol affects texture and flavor. Any brewer will tell you that those who proclaim to detest hops just haven't found the right beer yet, so keep that in mind as you and your guests taste through this spectrum!

Beer 1: Pale Ale/Session IPA
Style: Lighter in alcohol, often more thirst quenching, bright, and "crushable" than its higher alcohol counterparts
Suggestions: Stone Go-To, Carton Boat Beer, Firestone Walker Easy Jack, Lagunitas DayTime, Tired Hands HopHands

Beer 2: IPA
Style: Medium to high in alcohol, ranging from dry and brisk to sweet and chewy
Suggestions: Victory Hop Devil, Yards IPA, Bell's Two Hearted IPA, Ballast Point Sculpin, Cigar City Jai Alai, Deschutes Fresh Squeezed, Sole Simcoe Nerd

Beer 3: Double/Imperial IPA
Style: Bigger, bolder, more in your face, and not shy on bitterness or alcohol content – depending on what you pick this may need a disclaimer when you share it as they can often be comfortably above 8% abv (alcohol by beverage).
Suggestions: Evil Twin Molotov Lite, Green Flash Palate Wrecker, Port Mongo IPA, Dogfish Head 90 Minute

Beer 4: Wild Card
Options: IPA with fruit, spices or additional additives, a sour IPA, or a hoppy variation of another style, i.e. a "hoppy wheat" or "hoppy lager"

Master Class: Ask your neighborhood beer shop clerk to help you select one from each of these categories that features the same hop or combination of hops to truly highlight where individual hop flavor and aroma come into play! For advanced tasters, tasting the same style from four different producers is always a treat, like four different session IPAs (4x double IPAs is only recommended for more raucous affairs). Or ask for suggestions for "New England Style" IPAs for softer, juicier, unfiltered, and less bitter options to contrast with more classic interpretations.

Flight 2: Microflora Study, Yeast

Yeast is the microorganism that gives beer its alcohol as well any character not derived from raw ingredients. Since early civilization, this driver of fermentation has had mystical and magical qualities attributed to it, and often has a beguiling, heady quality that can be tough to put a finger on. The following flight explores various styles of yeast and the distinct effect they have on the beer they're added to.

Beer 1: Hefe Weisse
Style: Possesses some of the most notable yeast-derived flavor and aroma compounds in the beer world. Look for notes of banana, bubblegum, and clove while tasting this imminently refreshing style.
Suggestions:

Beer 2: Belgian Pale Ale
Style: If you're familiar with classic American pale ale like Sierra Nevada, this is great exposure to the way yeast character can change the DNA of a style and bring it to an unexpected place. Look for fruitier character and an ester-y, intoxicating aroma that is so singular to yeast influence that the beer world often just classifies it as "yeasty."
Suggestions: Orval, La Trappe, Leffe, Brewer's Art Beazly, Ommegang BPA, Brasserie De La Senne Taras Boulba, Captain Lawrence Liquid Gold

Beer 3: Gose/Berliner Weisse
Style: These light, tart cousins to German Weisse beers actually rely on a bacteria for their signature flavor, rather than yeast, but the premise is the same. "Lactobacillus" sets in when barley and wheat are allowed to soak for several days before fermentation, and the result is a bright, tangy level of acidity that shares a biological link to the same bacteria that gives yogurt its trademark tang.
Suggestions: Anderson Valley Gose, Two Roads Passionfruit Gose, Sierra Nevada Otra Vez, Bear Republic Tartare, Perennial Hopfentea

Beer 4: Wild Card
Options: Farmhouse, gueuze, American wild ale – the world of yeast gets truly fascinating the further you explore into the unknown. "Wild" yeast (as opposed more common yeasts that are cultivated and inoculated) is all around us and is always hungry to devour tasty sugars and inadvertently start fermentations. As a brewer, if you're daring enough to harness and tame the volatility of these wild yeasts (namely a funky little guy named brettanomyces) the results are as rewarding as they are unpredictable, ranging from earthy and woodsy to bracingly sour. And therein lies the adventure of tasting in an informative flight setting!
Suggestions: Modern Times Lomaland, Bruery Saison Rue, Saison DuPont, Lindeman's Cuvee Rene, Boulevard Saison Brett, Victory Sour Monkey

"Flights are a fantastic way to explore your tastes, and if you have an engaged group of friends with you it can be an extremely fun and eye-opening experience," Steve says. Cheers!
You May Also Like: