A Seat at the Table with Beekman 1802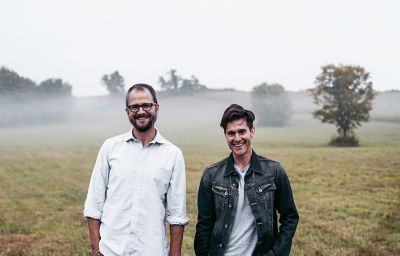 The latest addition to our bookshelf, A Seat at the Table is a brand-new cookbook from Josh Kilmer-Purcell and Brent Ridge, better known as the founders of Beekman 1802. Since moving to Sharon Springs, NY almost a decade ago, Brent and Josh have formed a community around their historic farm, gathering friends and neighbors at the table. In their new book, they celebrate that community by sharing the recipes and stories that connect them to life in Sharon Springs. Brent and Josh will join us for a pair of dinners inspired by A Seat at the Table on September 21 in Glen Mills, PA, leading up to the annual Autumn Bounty Festival, and on October 5 in Westport, CT, kicking off our Autumn Bounty Celebration Days. Both meals will end with a favorite fall dessert from the book: Boozy Bundt Cake. Read on for their favorite behind-the-scenes moments from A Seat at the Table, plus the crowd-pleasing cake recipe that makes a perfect ending for autumn meals.
terrain: What inspired you to write A Seat at the Table?
Brent & Josh: The inspiration for this book was our community here in Sharon Springs. When we started Beekman 1802 eight years ago, it was the middle of the recession. We left New York City after we lost our jobs, and came to this town with a population of 547 people. We started the company by working with local farmers and artisans; as we designed and created products, they would produce them for us. With this cookbook, we wanted to share the importance of community, and how you can create that community around the table.
terrain: This is your fourth cookbook -- what have you learned over the course of writing each one?
Brent & Josh: We think of each book as a story and a piece of art. No matter what we're producing, we approach it with the idea that there are already so many things in the world, so how can we make something truly different? We want our books to be relevant on the shelf today and 50 years from now. As we've written each cookbook, we've become more adept at finding connections with the reader. Everything we've learned over the previous three books comes together for A Seat at the Table in a beautiful way. For people who have our prior cookbooks, it's a complete stylistic departure -- much more down to earth.
terrain: How does life in Sharon Springs influence your cooking?
Brent & Josh: We're a very tight-knit community, so we share each other's gardens, kitchens, and leftovers. The major industry here is agriculture, so food binds this community in many ways. Our neighbor Rose Marie Trapani does something called "drive-by dinners." If she knows that we're traveling and won't be home until late, she comes over to our house and leaves leftovers in the fridge!
We shot A Seat at the Table over two and a half years, and wanted to photograph all the dishes in natural light. So, we had to time everything carefully -- we were cooking about 14 recipes throughout the course of a day! At the end of each cooking day, we'd put all the dishes on the back porch and post on Facebook: "Anyone who doesn't have dinner plans, come over and help us eat!" Even creating the cookbook was community focused.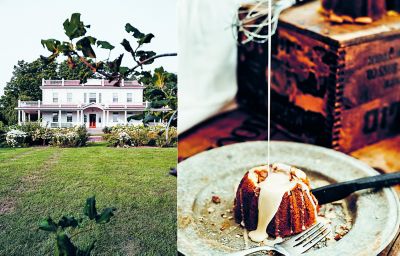 Boozy Bundt Cake
(Makes 12 servings)
Cake
1/2 cup sliced almonds
1 1/4 cups unbleached, all-purpose flour
1 cup cake flour
1/2 cup ground almond meal
1 tablespoon baking powder
1 teaspoon baking soda
1/2 teaspoon kosher salt
1 stick (4 oz.) unsalted butter, room temperature
1 1/2 cups granulated sugar
3 large eggs
1 cup milk
1/4 teaspoon almond extract
1 teaspoon vanilla extract
2 tablespoons amaretto liqueur
Amaretto Icing
1 cup confectioners' sugar
1/2 cup amaretto liqueur
Preheat the oven to 350°F. Grease a 12-cup Bundt pan well with butter and dust with flour. Scatter the sliced almonds in the pan, tilting to evenly distribute them around the bottom and sides of the Bundt pan.
In a bowl, stir together the flours, almond meal, baking powder, baking soda, and salt.
In another large bowl with an electric mixer on medium speed, beat butter and sugar until they are well mixed and resemble moist crumbles. Add the eggs, one at a time, beating well after each addition. Mix in milk, extracts, and amaretto. Scrape down the sides of the bowl with a spatula. With mixer on low speed, add the flour mixture in thirds and scrape down the sides of the bowl after each addition. Increase to medium-high and mix for 2 minutes. Pour batter into the prepared pan and bake for 50 minutes until a wooden pick inserted in the cake comes out clean.
Mix confectioners' sugar and liqueur in a measuring cup until smooth. Place the cake pan on a rack, and poke holes with a skewer about 1 inch apart into the cake. Drizzle icing slowly on cake, allowing it to soak in before adding more. Allow icing to soak for 30 minutes, and then run a knife around the edge of the pan, if necessary to separate the cake from the pan. Invert the cake onto a serving plate and allow to cool completely before serving.
Photographs by Christian Watson for A Seat at the Table by Brent Ridge and Josh Kilmer-Purcell (Houghton Mifflin Harcourt). Copyright © 2017.