Back Pocket Pasta with Colu Henry
It was 2013 when writer and cook Colu Henry began incorporating photos of her unfussy homemade pasta dishes into her stylish Instagram feed with the hashtag #backpocketpasta. Suddenly, linguine with anchovies and lemony breadcrumbs was sharing the spotlight with her interminably cool caftan collection, a heaping bowl of blond puttanesca came right after a peek inside her effortlessly chic Hudson Valley home, and a cozy plate of fusilli with sausage, fennel and greens signaled that she and her husband were getting resettled after another fun-filled vacation abroad.

While she began posting these "inspired dinners, cooked on the fly" in an effort to encourage her close friends and family to shake up their weeknight dinner routine, the hashtag quickly caught on, spurring hundreds of others to share their own versions of Colu's pasta dishes created with whatever ingredients they had in their kitchens.

The movement eventually led Colu to write her gorgeous new book, Back Pocket Pasta, a refreshing collection of uncomplicated pasta recipes, side dishes, cocktails and wine suggestions that's helping even more home cooks create delicious, nourishing dinners with a few basic ingredients and a little time.

This easy-going, soul-satisfying ethos that drives Colu's cooking is one we can definitely get behind - which is why we're so excited to host Colu and her friends from Scribe Winery for a decadent evening of pasta and wine at Terrain later this month. In anticipation of the dinner, we chatted with Colu to get her secrets to perfectly cooked pasta, how to elevate any pasta dish and the best time to drink rosé (hint: it's always).

terrain: We read in Back Pocket Pasta that your family is from Italy and that your great-grandmother was the original back pocket pasta cook. Can you tell us how you were inspired by her and your heritage to create these pasta recipes for your cookbook?

Colu: Both of my great-grandparents came over from Italy at the turn of the century and similarly to the others that also made the voyage, they arrived with nothing. My grandmother (who we called Nonni) was the oldest of 5 and recounted in stories from her childhood that with many mouths to feed, her mother's (my great-grandmother, also named Colu) recipes were born out of poverty and necessity. That said, they were always prepared with great care with whatever was available at the market. The concept that she was able to pull together creative and beautiful meals with next to nothing became the ethos for the book.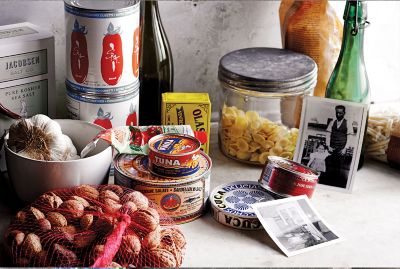 terrian: What does "back pocket cooking" mean to you and what do you hope it means to your readers?

Colu: Cooking "back pocket" means no rules (!) except for a few cooking techniques all of which are outlined in the book. Once you understand what flavor profiles work with what, you should feel to play around, swap things in, etc. The whole concept is meant to encourage home cooks to get comfortable and creative in the kitchen.

terrain: Can you give us a list of must-have pantry items to start our own Back Pocket Pasta cooking journey?

Colu: You bet! Canned San Marzano tomatoes, a variety of nuts such as walnuts, almonds, and hazelnuts, good olive, breadcrumbs, anchovies, and a big hunk of best quality Parmesan or Pecorino Romano cheese for grating.

terrain: Is there a cardinal pasta cooking sin that home cooks often make? Tell us what we're doing wrong (and how to fix it!).

Colu: There are two! Don't throw away your pasta water (it's crucial for emulsifying your sauce) and by all means NEVER rinse your pasta! The starch that has built up during the pasta's cooking time is crucial for even, sauce-clinging coverage.

terrain: We love your idea of using citrus to brighten up pasta, as in your lemony spaghetti recipe. Do you have any other suggestions of unexpected ingredients that can transform a simple pasta dish into something even more flavorful and delicious?

Colu: I love using fresh herbs with wild abandon! In the book, you won't be surprised to find many of my dishes are finished with freshly chopped Italian parsley. Others recipes include chives, tarragon, mint, and more! Finishing pastas, salads and braised meats with a showering of fresh herbs adds a layer of freshness and is a great way to cut richness. They're also visually pleasing and liven up your plate.

terrain: What is your wine and pasta pairing philosophy? Would you say reds go with heavier pastas and white with lighter, more citrusy flavors or do you just drink what you want? Does rosé come into play (please tell us it does)?

Colu: Rosé always comes into play! We drink it year-round in my house. In general, wines that have higher acidity such as the Pinot Noir and Riesling varietals like the ones we're drinking on Tuesday are very food friendly, meaning easy to pair with most dishes. For instance, a light and bright red would work really beautifully with a fish dish, but also one that's meat-driven and rich. I'm a believer of drinking what you want, when you want. Have fun, try new things and figure out what you like, that's really all that matters.

terrain: What can guests of the terrain Back Pocket Pasta dinner look forward to during the evening? Is there something you're serving (or wine that Scribe Winery is pouring) that you're particularly excited to share with the group?

Colu: First of all, I'm so excited to be joining you for the dinner, so thank you for having me. I'm really looking forward to meeting new friends and sharing pasta stories and answering any cooking questions that come up. Also, my dear friends own Scribe Winery and I'm so pleased that we're able to share their wines with everyone at the dinner. It's such a special place that I have a deep connection with and I'm happy to be able to tell a small piece of their story at the dinner.

Craving a big bowl of pasta yet? We don't blame you! Come indulge with us when she visits us in Glen Mills for dinner with recipes from Back Pocket Pasta and wine from Scribe Winery on Tuesday, April 17th at 6:30pm. Tickets and more information here.

Images from Back Pocket Pasta by Colu Henry, photographs by Peden + Munk, @pedenmunk (Clarkson Potter Publishers, 2017).
You May Also Like:
$2.95 – $6.00

$4.00 – $8.00