A Restful Sleep Routine with Bamford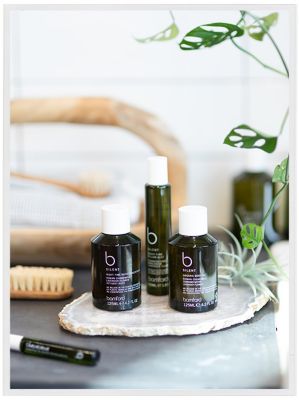 Sometimes elusive, always important, a restful night's sleep is crucial to our overall health. Indeed, a full eight hours is truly transformative but with early mornings, late nights, and busy days, sleep can feel like a luxury and one we don't often prioritize. Which is why we're so excited to become the exclusive retailer for the Bamford B. Silent range of wellness products, each designed with sleep in mind. From a pillow mist to a bath oil, the collection is packed full of nourishing, active ingredients that help you find restorative night's sleep, naturally. Recently, we had the pleasure of chatting with Carole about her own nighttime routine and how the B. Silent collection's active ingredients promote sleep. Read on for her insights.
terrain: What is your skincare philosophy?

Carole: It's essential that what I put on my body is as nourishing as what goes into it. I don't want to fill my body with the chemicals I avoid by eating organic food, so instead it is instinctive to look to nature and to the purest ingredients possible to feed and take care of my skin. When we create Bamford products, first and foremost they have to be made in an ecological and sustainable way, but they also have to achieve visible results.

terrain: What sets the B. Silent collection apart from other products?

Carole: As with all our products, we use natural and organic ingredients of the highest quality, and with this range they have all been carefully chosen for their sleep-inducing properties. We have worked with aromatherapists to create targeted blends that have been tested and proven to have a positive effect on your sleep.

terrain: Why did you decide to create this range of products?

Carole: Restful sleep really is one of the most fundamental ways in which we can care for our well-being. Sleep is our body's time to recover and restore itself after the day, yet having trouble sleeping is a huge concern for many people. We wanted to create a range of products to help customers have peaceful, restorative sleep and achieve the 6–8 hours we all need.

terrain: Can you tell us about the active ingredients in this range of products?

Carole: Organic cannabis sativa (hemp) seed oil is rich in omegas 3 and 6 essential fatty acids. The hemp strain is a powerful anti-inflammatory and can reduce pain and anxiety. Roman chamomile is composed of esters which are anti-spasmodic, anti-inflammatory, calming to the central nervous system and have a sedative effect; it can help with anxiety and sleep disorders. And lavender has been used for medicinal purposes for a long time for its anti-depressive, sedative and calming properties. It soothes the central nervous system for better quality sleep.

terrain: Do you have any personal rituals with these products before bed?

Carole: To have a good night's sleep it's important to respect your body's natural rhythms. Going to bed at the same time every night helps with this, as does having a relaxing routine before bed. I'll often have a bath before bed using the B Silent Night-time Bath Concentrate, and will use the Temple Balm and Pillow Mist to ease my body into sleep. I also find a hot drink relaxes me and I love our sleep-inducing organic infusion.
Looking for more ways to slow down and relax? Check our calendar of events for morning yoga classes, mini facials, and more at our stores!