Autumn Pumpkin Auctions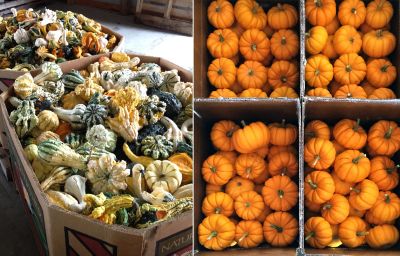 Every autumn, terrain garden expert Karen C. travels far and wide to auctions across the Pennsylvania countryside, searching for the season's very best pumpkins. Our stores are now fully stocked with colorful pumpkins and gourds for harvest decorating, so we went behind the scenes with Karen to learn how she finds these fall favorites.
"I start heading to the pumpkin auctions right after Labor Day, when the weather is just right." Karen tells us. "After that, I'll go to at least one auction a week through mid-October. Pumpkins and gourds are found at produce auctions; in early fall, they're mixed in with other seasonal picks like cabbages and apples. Later in the season, when the auctions become more focused on decorative pumpkins, lots of buyers like me start attending. It can be very competitive to get the very best varieties!
"The auction can be a crazy scene, filled with mountains of pumpkins, hundreds of bidders, and the sing-song sound of auctioneers. In many cases, Amish farmers attend with huge wagons of produce. The auctioneers take some time to get used to; even after a few seasons, it can be tough to know what they're saying!"
When it comes to picking pumpkins, Karen says, "For the past two years, I've been focused on heirloom varieties in shades of pink, gray, white, and pale green. This year, however, I think the classic orange pumpkin could make a comeback. There's something to be said for a nice, traditional pumpkin to carve, so I'll be keeping an eye out for special orange specimens. I'll also be shopping for Jarrahdale, an exceptionally beautiful, gray-green pumpkin. Another one of my favorites is the Fairytale or Cinderella, a flat, pinkish-orange variety. My most-loved variety this year is actually the Black Futsu squash. This tiny ornamental variety is prized for its color; it turns from jet black to raspberry to gray as it ages. And it's delicious, too!"