Autumn Bounty Poster Giveaway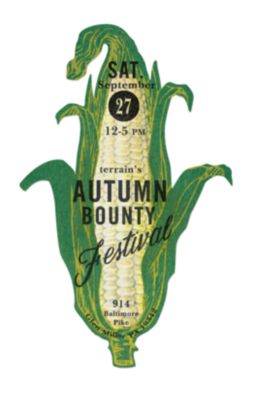 Fall is in full swing, and we're celebrating the season with our annual Autumn Bounty Festival! This year's festivals will be held on September 27 in Glen Mills, PA and October 4 in Westport, CT. Highlights of the Styer's celebration will include the ever-popular staff pumpkin carving contest, fireside treats, kid's crafts, and harvest decor workshops. The Westport festival will offer harvest crafts, a staff pie baking contest, trunkshows from Elizabeth Gillett and Lily B. & Co., book signings with Ample Hills Creamery and Fairfield County Chef's Table, and much more.
We're also thrilled to be teaming up with two fantastic local organizations-- The Food Trust and the Westport Farmer's Market. They're partnering with us to plan Harvest Marketplaces filled with local growers, artists, and makers, and we'll be donating 10% of the day's proceeds to support their efforts. The Westport Farmer's Market will also be joining our cafe for a post-festival dinner featuring local offerings. For a complete lineup of events and workshop registration, visit our festival pages for Glen Mills and Westport.
In the spirit of bounty, we're giving away five of the laser-cut posters shown above! Leave a comment below to enter for a chance to win. We'll be annoucning the winners and mailing out the posters on Monday, September 22. You can also click the image to download your own printable PDF. Good luck, and see you at the festival!
Thank you, Terrain!! I sent you an email with my address!

Love the design and would be happy to own one! Great work as always!

Love this imagery. Fall really is magical!

Buy local, eat local!

The Terrain Autumn Bounty Festival poster speaks to my nostalgic side... and nothing speaks Autumn's Bounty like a hearty ear of fresh corn! I look forward to displaying this with one of my autumn displays around the house!