Aquatic Terrariums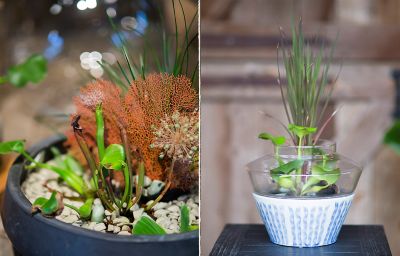 We're keeping our cool this summer with a fresh take on a nursery favorite: aquatic terrariums. Filled with a variety of unusual specimens, these striking displays are sure to make a splash as a centerpiece or warm weather hostess gift. Amelia B. from our Greengoods team says, "Water plants make for an interesting alternative to regular container gardening. Having a water container outdoors adds a serene, cool, and relaxing feel to your space."
She adds, "Our aquatic plants are best suited for a small man-made pond, medium-sized container garden (water tight glazed ceramic is a great option), or a small water terrarium. You just need a vessel that's deep enough to keep the roots of the plant submerged, with the leaves above the surface." Above at left, the vibrant foliage of Amazonian water hyacinth (Eichornia crassipes) mingles with spiky rain lily (Zephyranthes candida) in a low bowl filled with stone. These water-loving tropicals form the backdrop for a pitcher plant (Sarracenia 'Judith Hindle'), accented with vivid, orange coral and a dried Allium seed head. At right, a larger water hyacinth is framed by the tall foliage of red rice (Oryza sativa), a common plant across tropical Asia.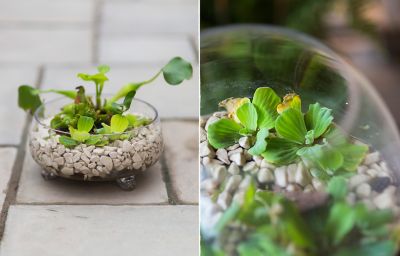 Above, a footed glass terrarium lined with stone makes a home for water hyacinth and water lettuce (Pistia stratiodes). Commonly found in tropical and subtropical waterways, water lettuce was first discovered in the Nile near Africa's Lake Victoria. These unique specimens and more aquatic plants are in stores for a limited time; stop in to choose your favorites, or take home a complete terrarium planting from our designers.
Throughout the year, our plant team highlights their freshest additions to the garden. Check in at your local store to take home these newly-arrived plants.
You May Also Like: