The Noma Influence: Natural Wine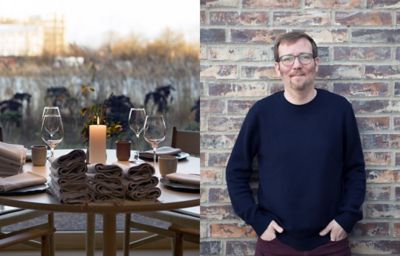 As we opened the doors to two new Terrain Cafes this past fall, natural wine was on our minds. Our beverage director is curious, thoughtful, and enthusiastic about curating a wine program that's unexpected and delicious, with a focus on natural wines. That's why we were so delighted to talk with Mads Kleppe, head sommelier at Noma. Unsurprisingly, Noma's interest in experimenting with ingredients and dedication to establishing a sense of place extends far beyond the food they serve - and Kleppe can't wait to tell you all about it.

"Every wine on Noma's list is natural," Kleppe enthuses. And while the definition can differ depending who you ask, the term "natural" generally signifies that the wines grapes are grown by small-scale producers, hand-picked from sustainable vineyards, fermented with no added yeast, and bottled without sulfites. The outcome of this anti-industrial method? Sometimes funkier and always more interesting, eco-friendly wines.

It's a practice that's found itself on the mainstream wine radar over the last few years, but Kleppe is quick to point out Noma's been supporting natural wine producers since they opened in 2003. In fact, he's developed such strong relationships with many growers, Kleppe is often intimately involved in the wine-making process for the bottles he brings to Noma's tables. When we asked just how collaborative the process can be, Kleppe said "it depends on the farmer - with some, I'm involved in each step, with some I pick specific barrels, and with others, I'm a part of the blending process." This means he's traveling to wineries three days a week - and says these visits are the most important thing to ensuring each wine's quality and consistency.

Indeed, much like David Zilber's continual quest for consistency with fermented food, stability is the key - and conundrum - for Kleppe's natural wine program at Noma. Our own beverage director for terrain cafes, another oenophile with a major interest in natural wine, was specifically interested in how Kleppe manages to maintain a dependably drinkable selection of wines when he's working with a notoriously volatile bunch. "Of course wines change because they are alive, so it requires a bit of experience. I've served wines even two years ago that I would never serve today. Now I feel more at ease because I've had that experience - because I know wine." He also reminds that as natural wine producers use continually more sophisticated methods for making wine, stability becomes less of an issue.

And now that the restaurant has shifted to a rotating three-season menu, Kleppe is planning the lists about two years out. "These menus require crazy amounts of wine," Kleppe says, but "it allows me to have a more complete expression of a wine pairing, whereas before, we'd change things up much more often. Now I get to go really deep." He's "feeling things out quite early" in the menu-building process, pulling from everywhere. "I have a bank of wines that are floating around in tanks, barrels, storage units," he says, and it's a challenge he enjoys, saying "I get to dissect everything, go back and see what fits where. Now, it's not just about the flavor, it's about the sensation, texture, feeling, color - all of it." While natural wine has become increasingly popular, introducing it to Noma's diners can "still be tricky," Kleppe says. "People are definitely coming around to it - even more conservative generations and cultures who are wary aren't disrespectful. It's great to see that people are opening up more."
Our time meeting the Noma team and exploring their grounds, greenhouse, kitchen and dining room was an education and experience for the senses. Inspired by both the visit and their newest book and guide to fermentation, we'll be hosting a very special Noma-influenced dinner at our Glen Mills, PA location on Friday, February 22nd. Hoping to see some of the curious among you there!
Visit our events calendar for more information and to reserve your space.
And don't forget to check out our conversation about fermentation with David Zilber here and our chat about foraging with Michael Fitzner Larsen here.
You May Also Like: