The Noma Influence: Foraging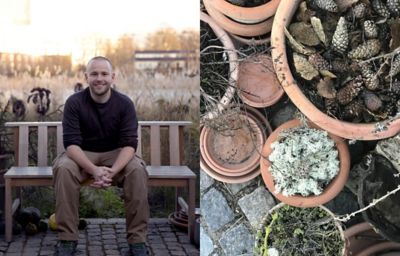 Here at terrain we're happiest outside. And foraging is an important element of everything we do outdoors - from finding berry-laden branches for a wild wreath to hunting down hyacinth for a spring arrangement. So it's no wonder we found a kindred spirit in Michael Fitzner Larsen, Noma's forager and product manager. Larsen spends a good many of his work days in cargo pants and hiking boots, treading through the local landscape, hunting for the delicious treasures that make Noma's menu shine.

"It's up to me to show René the best." Larsen says. Every season, chef Redzepi starts by asking "hey chefs, what's around?" and "from there, we try to create a menu out of that." Of course, to a certain extent he knows what will be available every season, but "one flavor may be great one year and terrible the next - it's about finding the right things at the right time." For instance, this past summer, "a lot of stuff we thought was going to be possible isn't possible now because it was a much hotter, drier season than we're used to." Or, some years, the kitchen may not like the way an ingredient looks but loves the way it tastes, so Larsen says "we may ferment it into a vinegar, but we don't see it on the plate."

We were curious how fermentation has changed foraging for Larsen, and he says that "more things are possible - different foraged things can be translated into different seasons," which helps expand and enhance each menu. Larsen says one of the most crucial components of his job is finding areas of abundance that are big enough to support Noma's capacity without destroying it by the end of a season. To that end, much like Mads Kleppe and his wine producers, Larsen's relationship with nearby farmers and landowners is sacred. "Developing connections who will allow you to use their land is really big work, because not all people think it's awesome that five guys from Noma are running around their property and we have to respect that."

Larsen says he'll drive 300 miles for blueberries and three hours for mulberries, which means he's on the road once or twice a week "to get the goodies we need." Speaking of berries, high season runs from about April to September, which is Larsen's favorite time for foraging. "I love the summer," he says, "the sun is up at 4:30am and goes down about 11:15pm - it's never truly dark." In these warm months, between six and sixteen people will go on a foraging expedition, combing the land from beach to forest, searching for everything from edible flowers to wild ramps.

Foraging is a way of life that's "in my milk," Larsen says. "I was lucky - I grew up on a small island and my grandparents had a farm. I grew up curious and when I started foraging as an adult, no one was doing what I was doing. If I'd gotten an education, I'd just have followed the same path as everyone else." Instead, Larsen says he gets further by asking questions no one else asks and he "doesn't mind asking twice."
As with everything at Noma, the question of foraging always comes back to innovation. Our executive chef at Styer's was especially curious about reinventing the same foraged ingredients and Larsen was refreshingly honest in his answer. "That's difficult, it's been ten years and sure, it's difficult finding something new." So what's next for Larsen? "What I'm into now is 'cheating' to get our plants to grow differently, whether its cabbage grown without sunlight or regrowing a wild berry on a farm." He says "a big part of our development is finding the craziest farmers we have in Denmark and partnering with them."

"There's no more winning feeling in yourself than when you can take something from the ground and see it eaten from a guest's plate," Larsen says. "It's the most rewarding thing."

Our time meeting the Noma team and exploring their grounds, greenhouse, kitchen and dining room was an education and experience for the senses. Inspired by both the visit and their newest book and guide to fermentation, we'll be hosting a very special Noma-influenced dinner at our Glen Mills, PA location on Friday, February 22nd. Hoping to see some of the curious among you there!
Visit our events calendar for more information and to reserve your space.

And don't forget to check out our conversation about fermentation with David Zilber here and our chat about natural wine with Mads Kleppe here.