The Noma Influence: Fermentation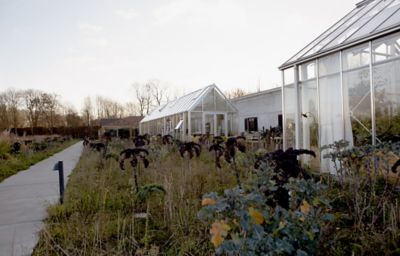 Early last month, a small group from our home office traveled to Scandinavia to visit the region's celebrated Christmas markets and see the traditions we've been inspired by since first opening our doors. A trip to Copenhagen would not have been complete without a taste of region's Nordic food and drink offering, and the group had the incredible opportunity to dine at René Redzpi's Noma - a restaurant named four times as the best in the world.
While terrain and Noma exist in different realms in many ways, we've long admired Noma and appreciated the philosophies for what chef René Redzepi has created. Namely, a shared focus on creating an immersive experience for guests that blurs the line between outdoors and in, wild and refined, natural and conceptual.
With this in mind, and armed with questions from our own curious Terrain Cafe team, we had the incredible honor of touring the unique restaurant and its grounds with three of Noma's incredible culinary staff. We're excited to share this three-part series based on our visit, meal, and illuminating conversations with David Zilber, head of fermentation, Mads Kleppe, sommelier, and Michael Fitzner Larsen, forager and product manager.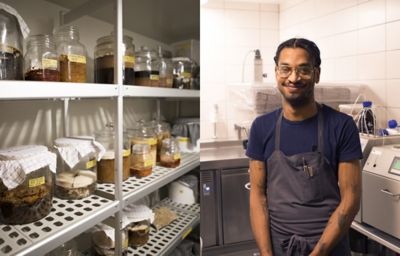 Fermentation has three major functions at Noma: to upend the traditional notions of seasonality, to help manage consistency, and to drive culinary innovation. Every dish on the menu includes a hit of fermentation (yes, even the desserts), but it's a technique they employ with a controlled hand. Our team marveled at how this often-pungent preserving method would add the lightest hint of depth, interest, or flavor to a dish.
It's in this spirit of progress that executive chef and co-founder René Redzepi teamed up with David Zilber, head of the restaurant's acclaimed fermentation lab, to write their latest book, The Noma Guide to Fermentation. With this incredibly thorough handbook, the duo takes the reader far beyond kombucha and kraut to learn how to make everything from koji and misos to lacto-ferments, vinegars and garums to black fruits and shoyus. It's a meticulous exploration of the preservation method that includes more than 500 step-by-step photographs with over 100 original recipes.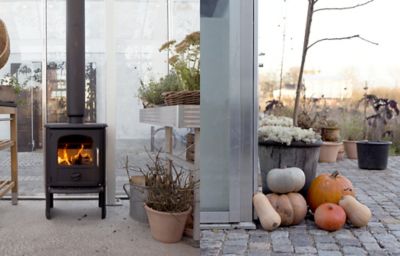 Sound daunting? David Zilber definitely gets the hesitation but while chatting with our team after service in the restaurant's famed fermentation test kitchen, he insisted everyone should "just take the jump! We've tried our best to make the book as accessible as possible," For beginners, Zilber suggests novices start with a fruit vinegar, which he finds interesting because "it lets someone understand the process - like 'this was sweet and now it's savory!' They can grasp what fermentation actually does."
And what fermentation actually does for Noma is allow Zilber and his team to experiment with flavors and ingredients through the seasons. "We've always found a way to solve seasonal problems and create flavors when they aren't there, Zilber says. "Fermentation is absolutely integral to the three-season menu." They're always working to preserve flavor and make ingredients last, whether it's with fermenting, salting, drying, or smoking.
"You can eat perfume - if you know what you're doing." And David Zilber definitely knows what he's doing. Zilber was telling us the story of cloudberries, a rare Norwegian berry the foraging team found, that can only be grown wild and can't be farmed. "Earlier this year, we were making juice, it's liquid gold, from these berries and had 100 kilos of the pulp. We weren't just going to throw out the mash of these hand-picked berries, so we asked ourselves, 'how do we make the best of it?'" he recalls. "We put the pulp through an extractor to create one of the most insane flavors you've ever tasted, like a Starburst. And to get there, we used technology that's normally used in the perfume industry."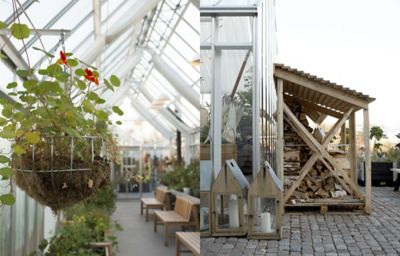 During another experiment, Zilber remembers "one day I was trying to clarify fennel juice by using a centrifuge and the concentrated waxes at the bottom of the bag tasted like the craziest Indian candy." His is a curious mind, one that's always searching for flavors that will even surprise Redzepi. "It's about looking at everything that's possible."
And while this does sound like a fun, inspiring job, it comes with its fair share of pressure. "It can definitely be a challenge to recreate an organic process over and over again," he says. That's to say nothing of the push to create something new constantly. When we asked if the test kitchen ever has a miss, Zilber deadpans. "To quote Jeff Goldblum in Jurassic Park, 'life will always find a way.' But it won't always be what you want it to be." With that said, Zilber does agree that "most of the time, our tests taste good, but it's a real unicorn when it's actually something that's worthy of going on the menu, like 'okay, we've reinvented cuisine here.'"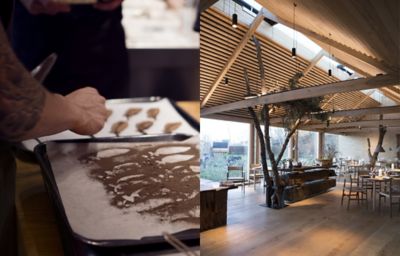 Our time meeting the Noma team and exploring their grounds, greenhouse, kitchen and dining room was an education and experience for the senses. Inspired by both the visit and their newest book and guide to fermentation, we'll be hosting a very special Noma-influenced dinner at our Glen Mills, PA location on Friday, February 22nd. Hoping to see some of the curious among you there!
Visit our events calendar for more information and to reserve your space.
And don't forget to check out our conversation about natural wine with Mads Kleppe here and our chat about foraging with Michael Fitzner Larsen here.