A Spring Truffle Twist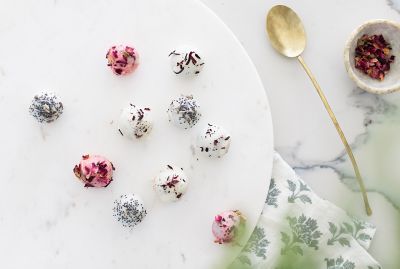 We thought it would be inspiring to take the classic chocolate truffle and dress it up for spring's many special occasions. So our pastry chef, Robert Toland, played with some of our favorite Golden Fig pantry items to flavor and decorate his delicious signature truffles. Inspired by the upcoming season, Robert chose three unique chocolate and flower combinations to share with us: white chocolate with hibiscus; milk chocolate with lavender and poppyseed; and milk chocolate with rose water and crushed rose petals. Each was dipped in white chocolate to give a beautiful, neutral canvas to make the color and texture of the seeds and dried petals pop.
After watching him make all three these gorgeous sweets seemed simple enough to attempt at home, and Robert totally agreed. Calling truffles one of "the most decadent and the most accessible" desserts in his repetoire, he offered two key pieces of advise for the novice. First, he says, ingredients are important: "Use the best possible ingredients. Truffles should be for a special occasion, so it's nice to splurge once in a while." Second, and most important he says: "Don't forget to have fun. And don't be obsessed with making a perfectly spherical truffle. A more organically shaped truffle can be pleasing to the eye as well. They're inspired by a mushroom grown underground after all."
And with that, our weekend truffle-making plans are made!